Memories of Michael Heycock, OE1954-58 and former School Captain
We were delighted to receive recently an extensive collection of photos and memorabilia from Mr Michael Heycock (OE1954-58) who was School Captain in his final year at Emanuel. In addition to rugby, rowing, sporting action shots, Combined Cadet Force (CCF) and Prefect photos, there were also school rolls, Rosslyn Park Rugby Sevens programmes and cricket fixture lists. Combined, it is a fascinating snapshot of our school in the late 1950s, which Michael has held onto for over sixty years and has now kindly bequeathed to the school.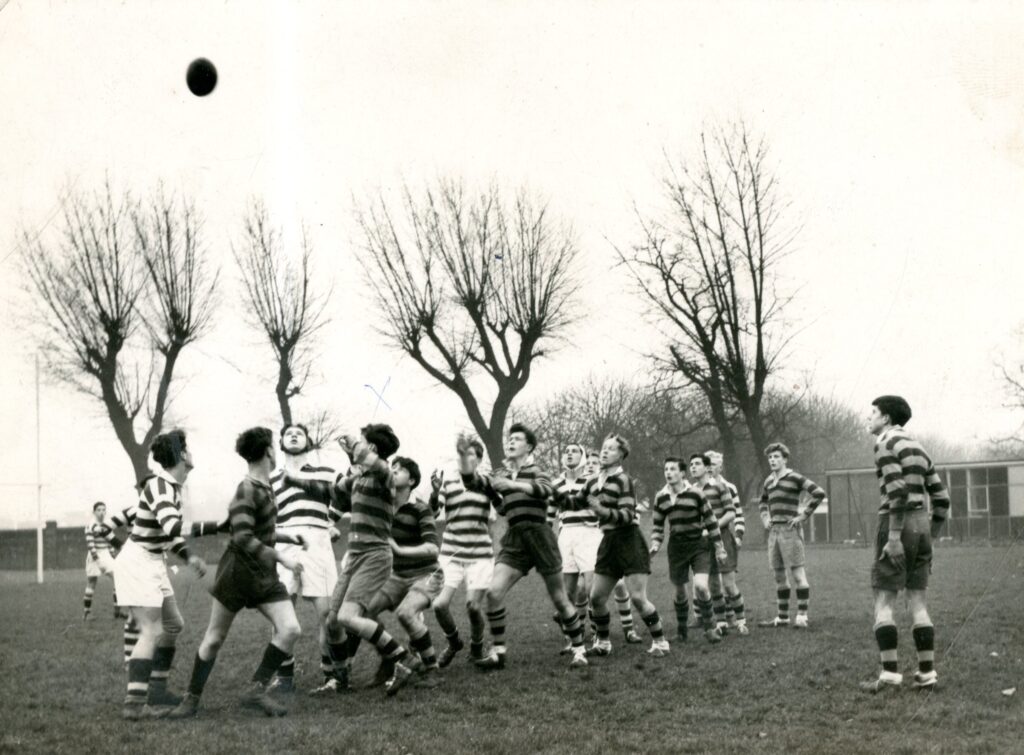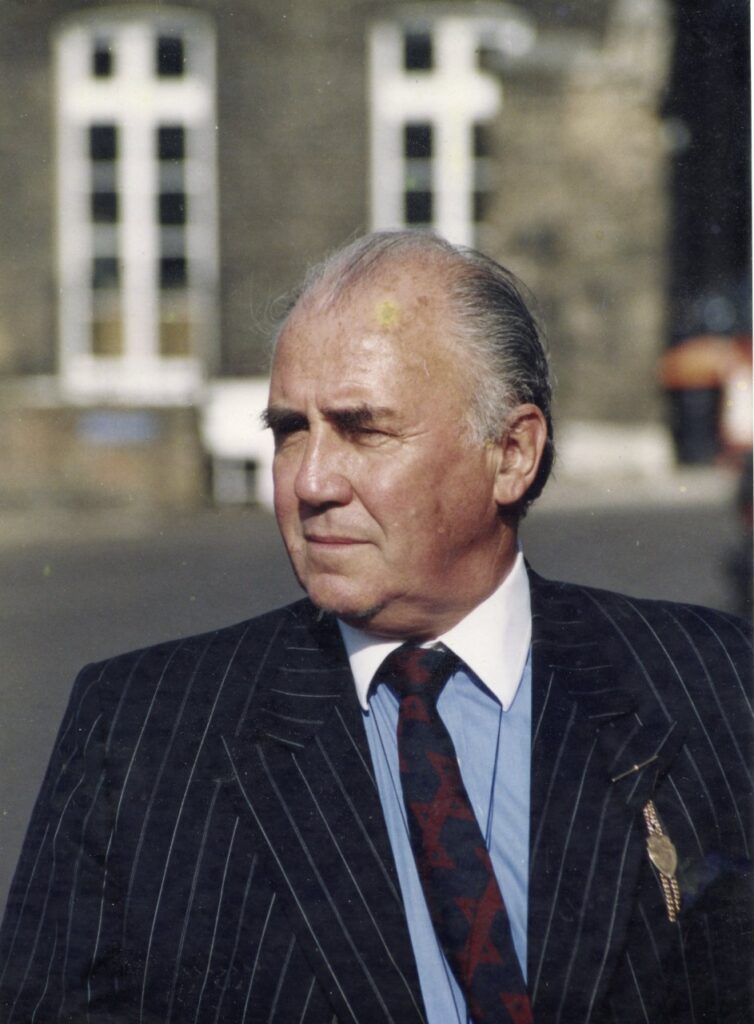 We later had a lovely chat with Michael who provided us with extra information about his time in the school, the opportunities it led to and the fascinating career(s) which followed, leading to him being a resident of west Wales for many years, although he freely admits that his Welsh language skills still do not stretch beyond a few words!
Michael arrived at Emanuel in 1954 aged 14 and, as he had uncles who had attended the school before the war, obtaining a place was relatively straightforward. He recalls mixing with pupils from tough backgrounds in an environment which provided a solid education. His favourite teachers were Claude 'Taffy' Neath and Ian Laydon who taught French (although his main subject was Latin) and History respectively. Michael also played a lot of sport, in particular rugby, but avoided cricket due to his poor eyesight. After leaving school, he briefly played rugby for the Old Emanuels, but as a prop forward did not carry enough weight to be effective. In later life, Michael switched sports to squash and even though cricket was not his strongest sport he became a member of the MCC in 1974 and on one occasion even bumped into legendary English Master Mr Charles Cuddon in the Long Room at Lords.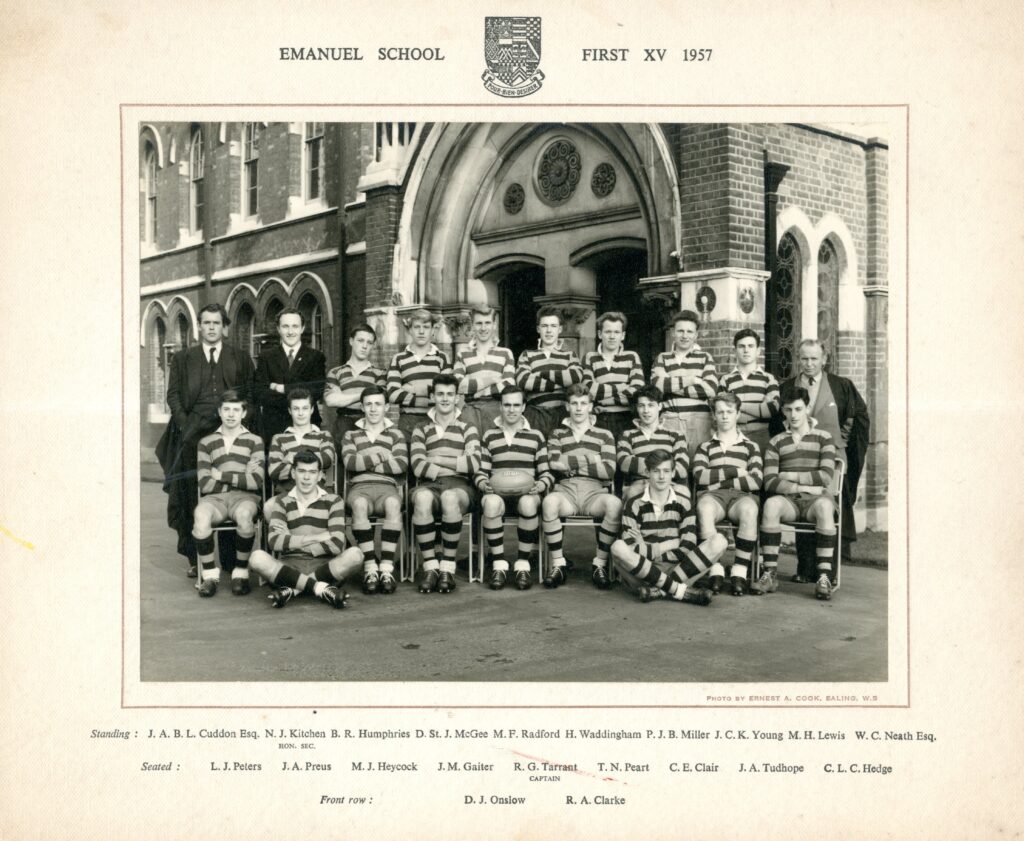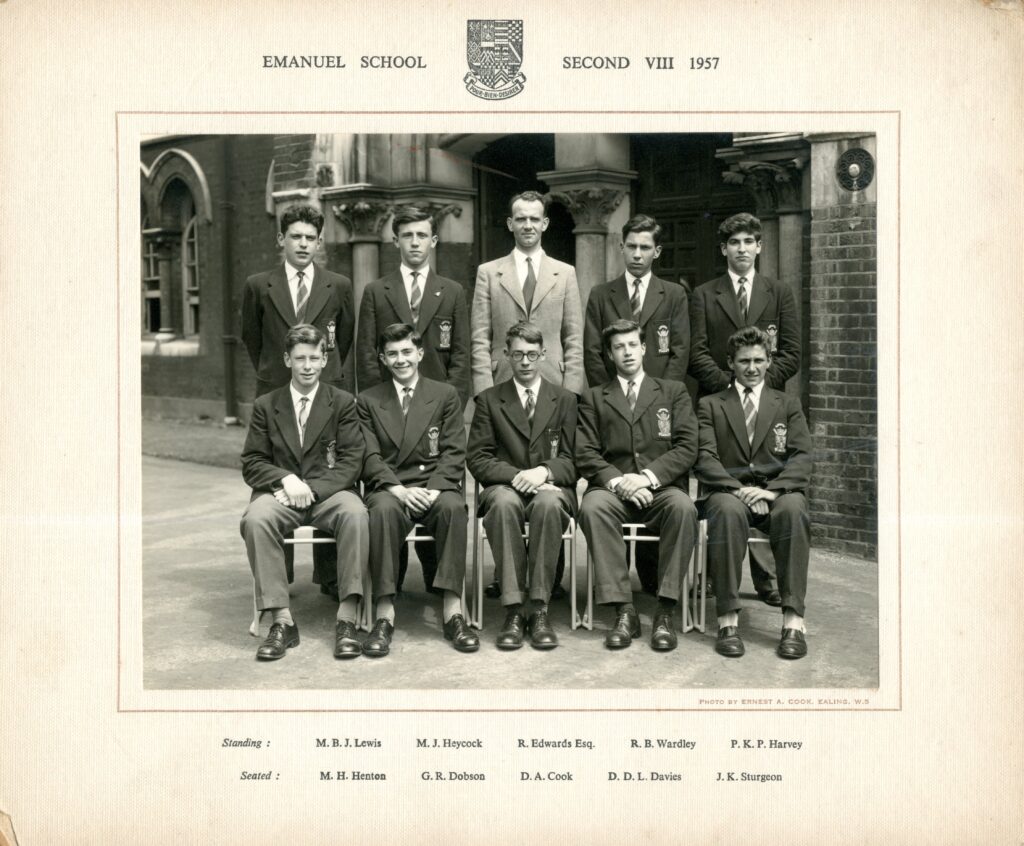 Above: 1st XV 1957 and 2nd VIII 1957.
Like many of his era, Michael was a member of the CCF and remembers this very popular activity as 'almost' compulsory. As it was strongly connected to National Service, most boys of his generation took it very seriously. He recalled the regular marches in the Wandsworth Common area and the excitement of spending the weekend staying in the Tower of London with the corps. He thoroughly enjoyed the annual camps which could often have 2000+ teenagers from across the country camped in army barracks or in tents. On one particular trip, because of the 1955 Suez Crisis, all the adult soldiers were suddenly redeployed and old rivalries between the unsupervised boys broke out. The disturbances, however, were put down by MPs who were drafted in to restore order and took no prisoners in doing so. As a result of his involvement in the CCF, Michael also went on a school trip to Germany (pictured below, right) and even had a few private German lessons from his Headmaster Dr "Jack" Grundy. Michael recalled being awful at the language!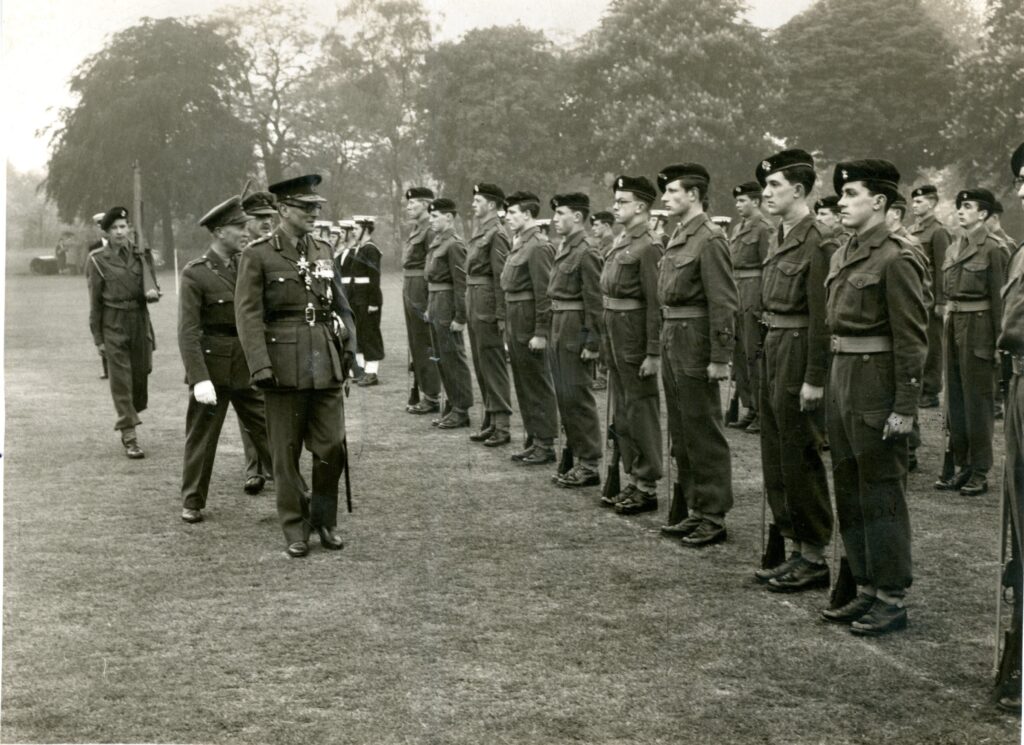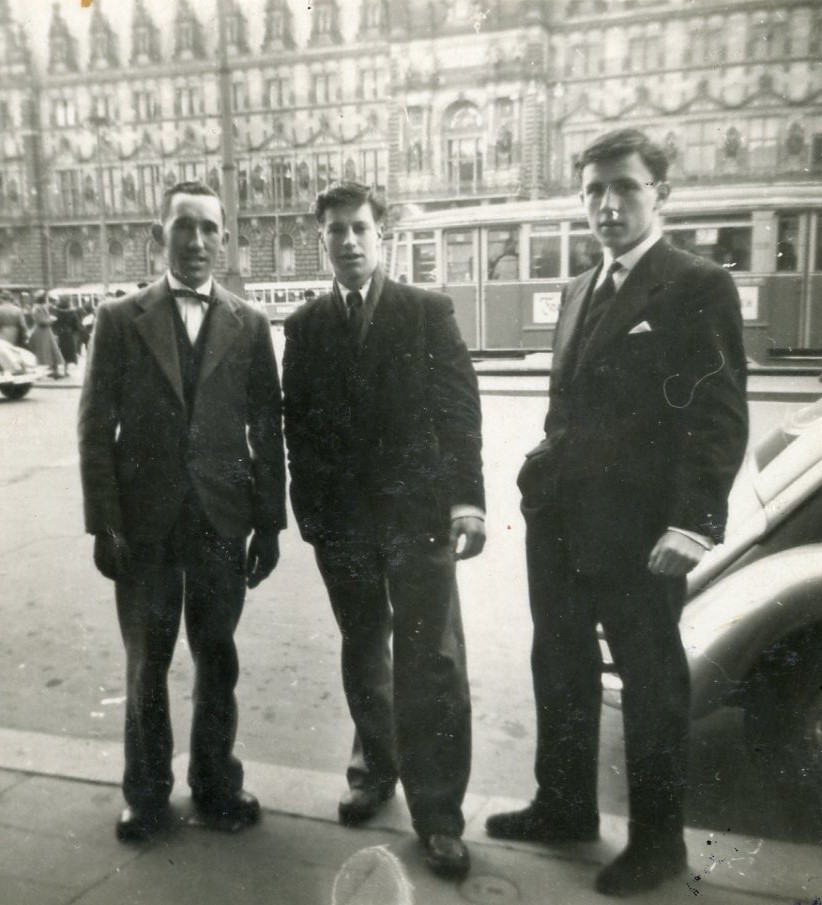 As Michael progressed through school, he looked up to several older boys such as David Marquand, who became a Labour MP, distinguished historian, author, and academic. Looking back, he felt there was no pressure to attend university and the fact that he was School Captain was worth more than its weight in gold. Being seen as a "good old chap" from Emanuel opened many doors and led to new opportunities. Michael became lifelong friends with his Deputy Head Boy, Tom Peart, and although Tom was a stronger rugby player, Michael felt he got the top job because he was a slightly better politician! He loved the feeling of importance connected to being School Captain and there was nothing better than having his own private study (these are now offices for the Heads of Year in the Middle School).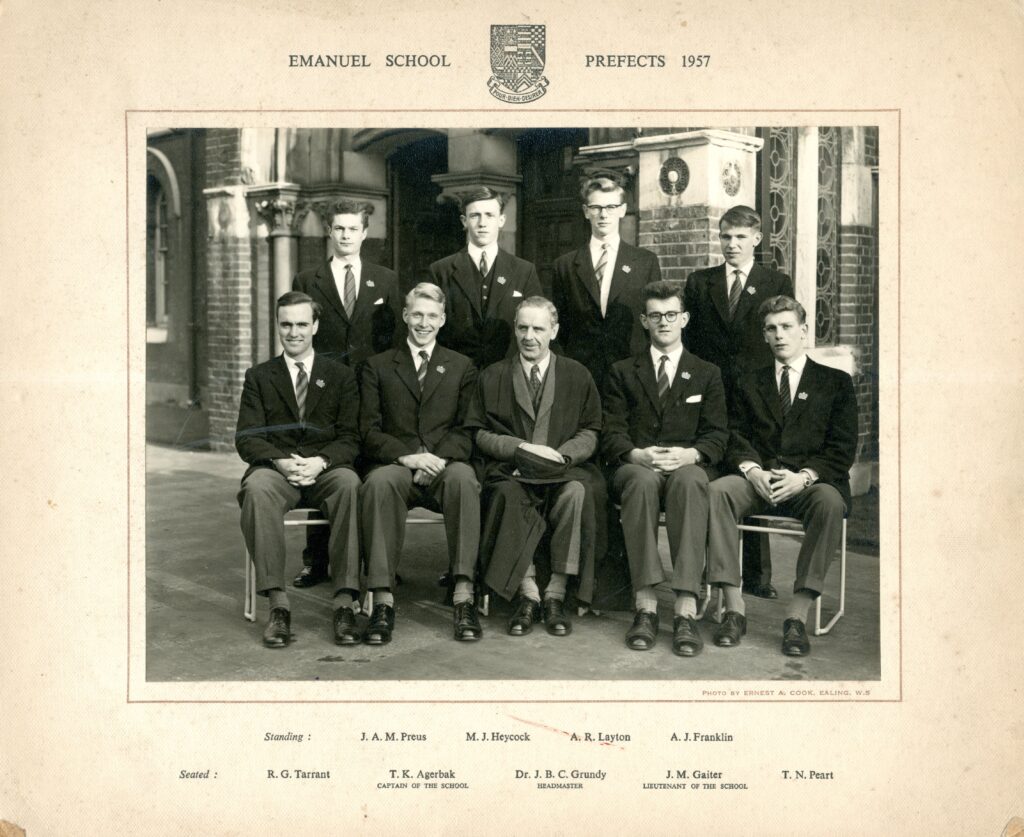 Michael was eligible for National Service the same week it was forever mothballed, but failed the accompanying medical as the powers that be were doing everything possible to reduce the final numbers. Earlier, he had missed six months of school due to rheumatic fever but was heartened by the fact that the whole school prayed for his health in his absence. Toward the end of his time at school, popular PE teacher Mr Andrew Tilley passed away from cancer and Michael co-ordinated a fundraising effort for his family, raising over £1,000 – a massive sum of money in the late 1950s.
After he left Emanuel, Michael had a variety of different jobs which included two years working with insurance at Lloyds, followed by a spell in Vancouver which featured an exciting stint as a lumberjack. Upon returning to the UK, Michael worked in advertising for ten years and at 34 years old was appointed Managing Director of one of the top ten UK advertising firms.
In 1974 Michael had a complete change of pace and "dropped out", buying a water mill in west Wales which he restored and brought back to life. It produced tons of wholemeal flour long before this type of produce became fashionable. The venture was incredibly successful, with the mill also becoming a top Welsh tourist attraction. As a result of this success, Michael was also sent by the Welsh government to provide expert advice to other countries, such as Japan, on their behalf. Never one to miss the opportunity to explore new ventures, his visit to the Far East led to him opening three sushi restaurants in central London in the 1990s.
Following a colourful career, Michael retired at sixty after selling the mill in 1991. He still lives a mere five miles away in rural west Wales.
Amazingly, Michael has never returned to Emanuel since he left in 1958. However, he would be welcome back any time and we are very grateful for the lovely donation. Do get in touch if you have anything similar at home you would like to share.
Tony Jones (Senior Librarian & Archivist)