We were delighted to catch up with one of our most successful sporting alumni Mr Mostyn Field (OE1969-75) who was a highly distinguished rower and member of the VIII which won the Schools' Head of the River Race an unprecedented four times in a row across three age groups. Mostyn later became a GB international athlete, representing the country in three rowing world championships and winning a bronze medal in the Commonwealth Games.
How did you originally get involved in rowing and did you ever try your hand at any other sport to any level of success?
Mostyn: After a very small intake to the boat club the previous year, there was a rowing recruiting drive in my second year, which resulted in a very large intake. I signed up purely, because it would get me out of cricket, which partly answers the second half of your question. I wasn't a fast runner and had no great ball skills. I enjoyed playing rugby badly but hated playing cricket badly. Outside of school I had some success in club swimming. In fact, when the school pool opened, probably in my fifth year or lower sixth, I won the first school senior swimming gala.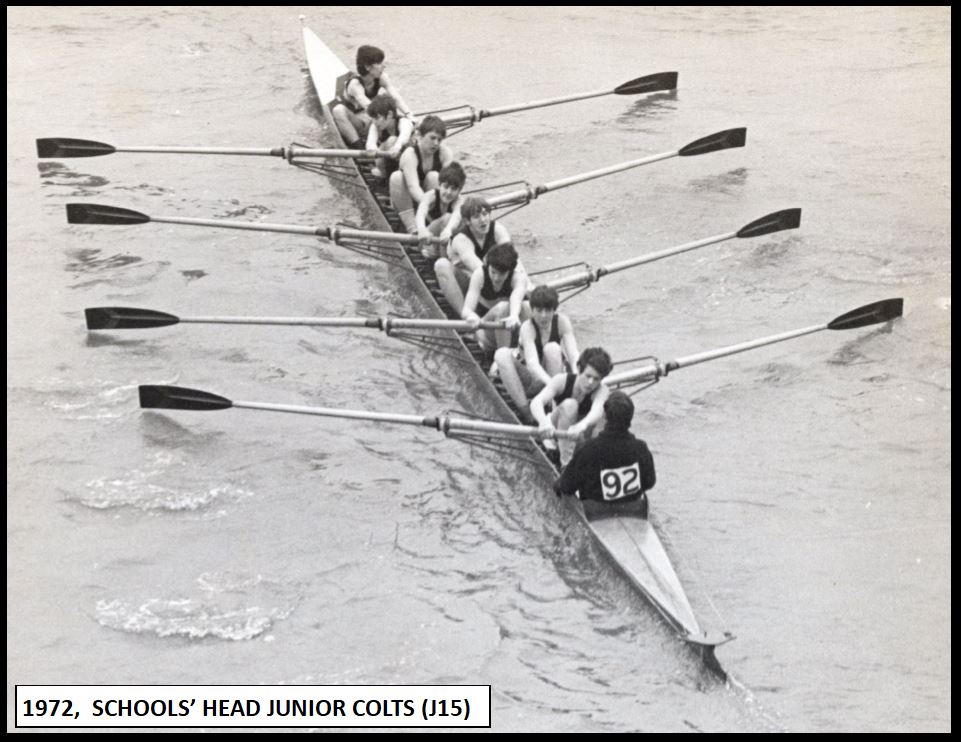 Do you have fond memories of your time at Emanuel?
Mostyn: Very much so, although obviously being so long ago, it's now possibly viewed through rose coloured glasses.
Which staff members made a lasting impression on you?
Mostyn: Dr Ulyatt scared me into learning some Physics and was definitely a memorable character. But Mr Holdstock my form and maths teacher in the fourth and fifth year was also a very good teacher.
You rowed in one of Emanuel's best and most successful VIIIs. What would you rate as the crew's very top achievements?
Mostyn: Winning the Schools' Head at every age group, and some very good results in the adult Head of the River Race. Also winning Elite eights at Wallingford, surprisingly beating two top level crews Leander and Kingston RC. Thirdly, selection of Emanuel as an eight for the World Junior Rowing Championships.
Looking back to the seventies, what made Emanuel such a competitive force on the river who regularly defeated school's such as Eton with significantly more resources at their disposal?
Mostyn: In my cohort the large intake, which was further bolstered in the third year by boys like Jon Dobner and the Roberts triplets, gave us a large pool of talent to match the big rowing schools. This was then developed by Peter Jones's technical coaching and his instilling of a winning mind set.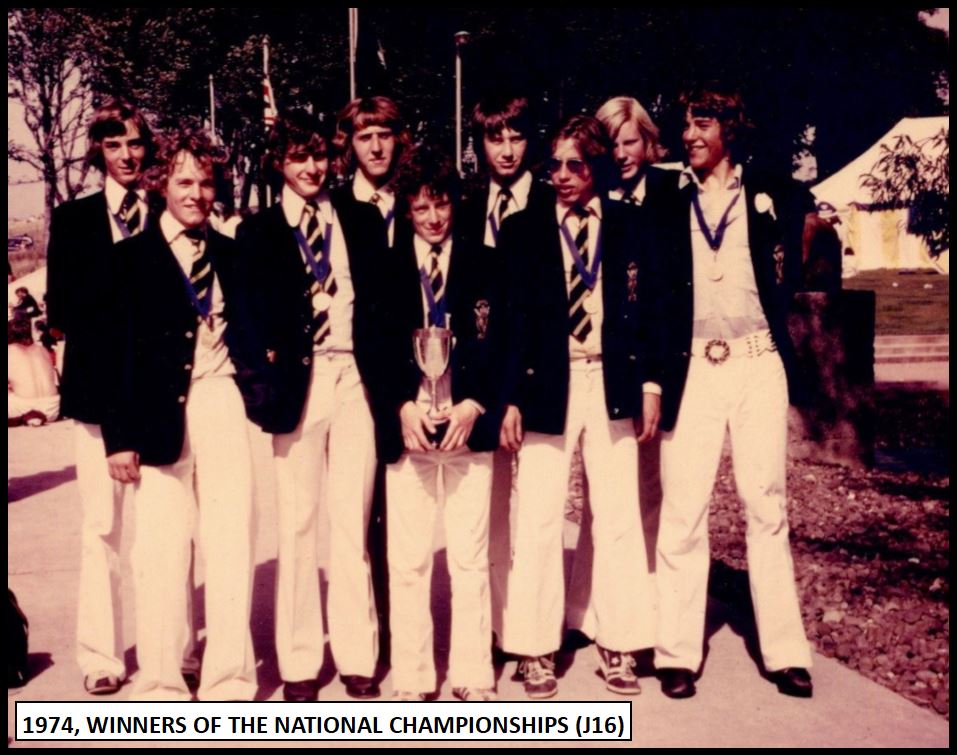 Do you see failing to win at Henley (The Princess Elizabeth Challenge Cup) "as the one that got away"? You reached the semi in 1975 and the final in 1976.
Mostyn: Absolutely, it would have been the icing on the cake to win at Henley like the great 1966 Emanuel crew. We pushed two extremely good North American crews very hard, but came up just short.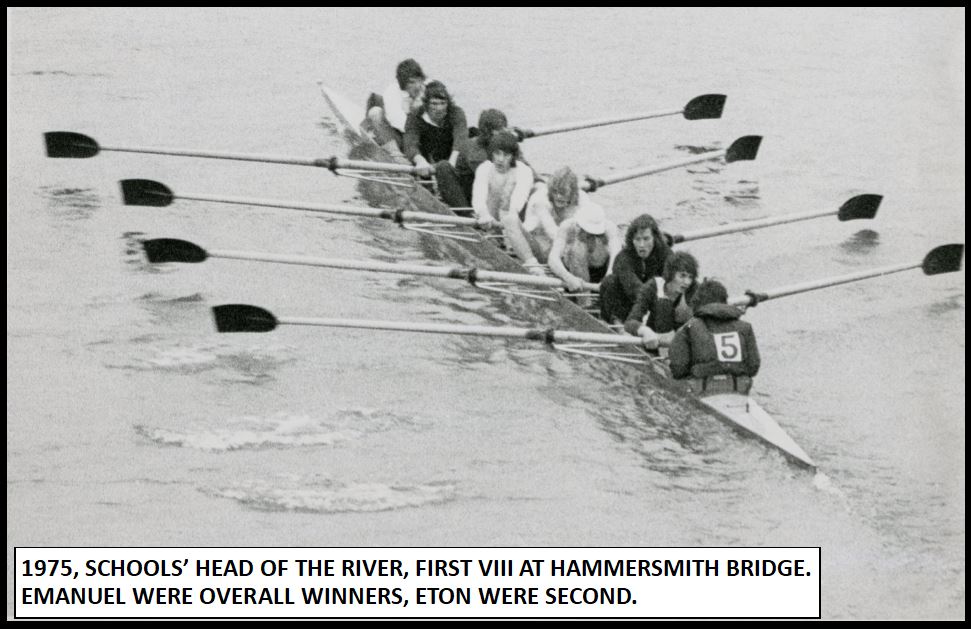 As an Emanuel schoolboy your VIII represented GB at the 1975 World Junior Rowing Championships. Did your coaches demand this level of success? What was the buzz like when you pulled on your GB vest for the first time?
Mostyn: We were all lower sixth in 1975 and it was very much "let's see how far we can go". So as the results kept rolling in, we just pushed onto the next target. 1976 was much harder as the success was expected and we had a few issues (one crew member was born before December so couldn't race in junior events, another stopped rowing and a third had hepatitis).
Getting the GB tracksuit and vest was great, and I remember my mum taking pictures of me in our garden. I swopped the vests for French and Canadian vests at that World Junior championships. I know that the GB tracksuit top and French vest are still somewhere in the house.
Did you have many other interests, at school or otherwise, beyond rowing or did it dominate everything?
Mostyn: Rowing largely dominated, but I was in the concert and chapel choirs in lower school. I enjoyed being in the Royal Navy section of the CCF, despite having to commute on the train in a sailor uniform on Tuesdays! Once the swimming pool opened, I tried to get a water polo team started.
Could you explain the path you followed in becoming a full GB international rower?
Mostyn: In the early seventies, University of London (UL) rowing was very successful and many "purples" were selected for the GB team at the World Championships. So, I chose to study at UCL so that I could row at UL. This looked like being my fast track in, as within just a year it seemed I would be selected for the senior team aged nineteen. We won the men's National Championships in the coxed four and then beat a national squad crew in a further best of three trial. But the selectors decided the times (into a headwind) weren't fast enough.
The next five years continued in this vein with the GB selectors continually disregarding National championship wins, trial wins and beating their "selection standard times". It was looking like it would never happen, with even the Sunday telegraph writing in 1983 that the pair I was rowing in had suffered "a real injustice". But having won at Henley and the National Championships, the selectors put our pair in as bow pair of an VIII and sent it to the 1983 World Championships. So, it ended up being a very long road, but perseverance paid off. I was eventually selected for three World Championships in total.
You won a bronze medal at the 1986 Commonwealth Games in Edinburgh. What do you remember of that experience? Did you cross paths or hang out with any stars of the track and field or did you stick to the rowing bubble?
Mostyn: The rowing course was in Glasgow so we were housed in Strathclyde University whilst the other sports were all in Edinburgh. But we went to the opening ceremony where we felt like midgets on a bus with the field athletes. During the ceremony a Canadian athlete, I'd never heard of, was strutting about, and taunting the England athletes. Turned out to be Ben Johnson and we all knew his name by 1988!!
What did you pursue as a career and how difficult was it balancing with your rowing life as an amateur sportsman?
Mostyn: I graduated as a geologist from UCL and got a job as a geophysicist, my main thought process was the firm was based in Brentford and very easy to get to the river. In those days it was tough rushing round West London from work to training at 6:30pm, with two days where we'd already trained early in the morning before work. The two sessions in the morning at weekends, were much easier to fit in. But it what was what was required, so I just got on with it for the first nine years of my career. I remained working as a geophysicist for forty years in total until my recent retirement.
What is your favourite event in the rowing calendar?
Mostyn: It has to be Henley Royal Regatta. I know it adds fuel to the fire of those who say rowing is posh, but everybody enjoys the day out. As for racing there, nothing comes close, whilst winning at HRR is every rower/scullers dream.
You mentioned winning at Henley. So, you went onto win there as an adult after coming close of a schoolboy?
Mostyn: Yes, I eventually won three times. The first win was in a University of London (UL) eight to win the Thames Cup (beating my old crewmates Clive Roberts and Bob Downie in the final). The two other wins were for Tyrian (UL alumni), in The Stewards (coxless four) and Goblets (coxless pair). Winning at Henley is a brilliant experience, but losing a final is desperate and I have lost far more than my fair share of Henley finals. To finish on a brighter note I have coached three UL crews to win trophies at Henley.
You competed in three World Rowing Championships. What are your top memories?
Mostyn: My crew's turned out to be of B final standard (places seventh to twelfth, perhaps those GB selectors were right!) But in 1986 the Worlds were held in Britain, and in the semi-final we had a great race and were in an A final qualifying position for about 1800 meters. The next day we had another good row and came second in the B final behind the Russians who were world silver medallists the year before and after.
How close did you come to making it to the Olympics?
Mostyn: In 1980 my UL eight won the April trials beating the National Squad, they then formed a new crew which beat us and went on to win the Olympic silver (with OE Malcolm McGowan at 7). In 1984 rowing for the UL alumni, Tyrian, we lost to the GB Olympic coxless four by a canvas at Henley. Having been beaten in an additional final selection race just before the 1987 World Championships, there was no realistic way into the 1988 Olympic squad. ……… So you could say, close, but no cigar.
What do you think of the gradual professionalism of rowing? Do you think yourself and your top schoolboy VIII would have had the commitment and desire to succeed in today's hyper-competitive world?
Mostyn: Well GB rowing has certainly been revolutionised by the use of Lottery money. As always they've lost many things we had and enjoyed, but the results are the results. At school level I'm sure my crewmates would have done well as we would have been prepared to do the training required, because that was our mind set.
Have you remained in touch with many of your old classmates and rowing friends?
Mostyn: Yes, I still meet up with Mark Tollitt, John Grove and Bob Downie and often bump into Clive Roberts at regattas. As a crew we have had reunions at a couple of ESBC dinners, and we have email contact from time to time.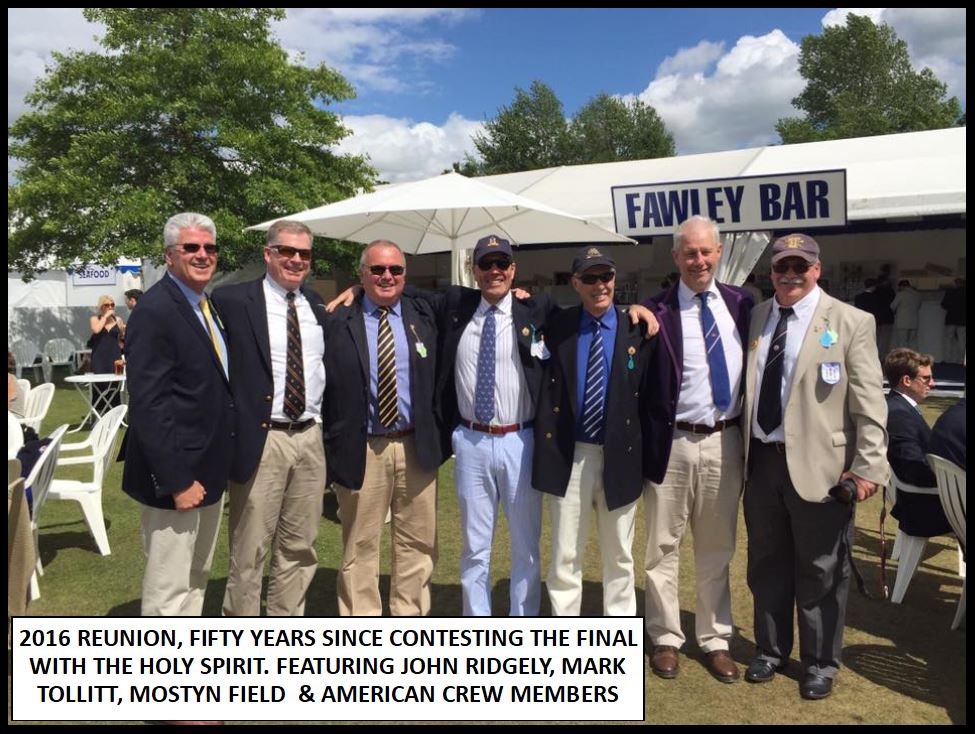 Your photograph collection is truly wonderful and thank you for allowing us to share them. Surely your parents are behind such a thorough personal archive, were they big supporters of your rowing career?
Mostyn: My parents were great supporters of my rowing career. Whilst at Emanuel all the parents did a lot of driving to get us around the country for races. My dad was happy to give up some of his rugby afternoons when he discovered that bars at regattas were open most of the day!! The photo archive is my work, and ex-rowers will remember the excitement when race pictures arrived from Syd Burke photography in the boat club square (of course my parents than paid for the pictures ordered).
We loved the photos and clippings of the three VIIIs rowing to the Houses of Parliament to submit a petition in the long running fight to retain grammar school status, rather than go comprehensive. As a schoolboy how much were you aware of this campaign bubbling on in the background?
Mostyn: We were all very aware, it was a very big thing. My parents would never have been able to pay for a private school, so I was keen on the school staying as a state grammar school. By the way although one of the pictures shows three crews, a clipping from The Wandsworth Borough news reports that SIX VIIIs made it to Westminster that day!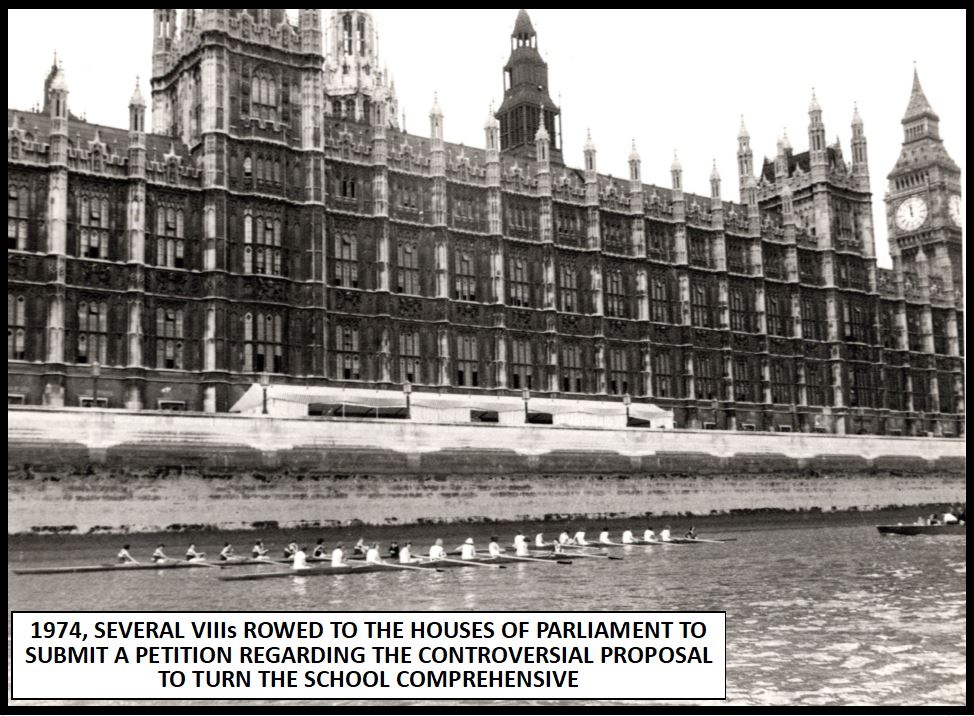 I believe since you retired from competitive rowing back in 1988 you have actively been involved in coaching, for many years at the University of London and them Ardingly Rowing Club. Are you still going strong or thinking of hanging up your oars?
Mostyn: My connections with the University of London are very strong, but not as a coach anymore. With Ardingly RC I have backed off slightly since retirement, but still coach one session per week in the winter and two sessions per week in the summer.
If you had the ability of giving any advice to your teenage self what would it be?
Mostyn: Whatever you do fill in the form in the second year to take up rowing . But outside of that try more things and don't be afraid of failing. At worst you'll learn something, and it nearly always comes out better than that.
Many thanks Mostyn. It's always great to hear about the seventies era and your various triumphs on the water and beyond.
Tony Jones (Archivist)