This weekend, as the nation remembers its war dead, please pause to spare a thought to the 250+ Old Emanuels, and several staff, who lost their lives in both World Wars and the 1700 who served. Today we focus on Lt. Geoffrey Cholerton Smith (OE1906-13) who has a plaque in the school chapel and the poem written by his great friend Mr Geoffrey Aubrey Lyward OBE (OE1905-12) who later became a teacher at Emanuel.
Geoffrey was killed on the opening day of the Third Battle of Ypres, which is also called the Battle of Passchendaele. This horrific encounter was fought over the summer and autumn of 1917 with Allied forces losing more than 320,000 men and the Germans as many as 400,000. Many OEs fought in this awful battle which descriptions have compared to the biblical hell, in which weather conditions were so atrocious soldiers were known to have drowned in the mud.
Not long before the war Geoffrey was a keen school cricketer and the summer term Portcullis of 1913 notes that he was "A hard-working Vice-Captain and secretary. As a player his strong defence has been invaluable to the side." Living locally at 11 Magdalene Road, Wandsworth Common, Geoffrey was a member of the Emanuel Officer Training Corps (OTC) and like almost all of his contemporaries in the Corps joined the war effort when old enough to do so.
Geoffrey Cholerton Smith (OE1906-13)
Entering Sandhurst in 1915, Geoffrey later obtained his commission in the Army Service Corps, before being attached to the Royal Flying Corps (the RFC later became the RAF) in which he became an Observer. Commonly, Observers located the position of German batteries and reported back to either headquarters or the artillery in order for them to fire upon these locations. They also took command of their aircraft's machine guns.
In September 1915 he made the journey to the Front where, being attached to the trench mortars of the Second Division, he saw action in the Battle of the Somme and won a Military Cross for gallant conduct at Delville Wood where many OEs fought and at least two lost their lives. Geoffrey then transferred to 6 Squadron RFC in April 1917 where he continued as an Observer. On 31 July 1917, the opening of the Third Battle of Ypres, the weather was treacherous for observation due to low lying cloud and rain. Having to fly particularly low due to the poor conditions, Geoffrey and his pilot were wounded when hit by ground machinegun fire whilst above German lines at Messines. The Portcullis later reported that "He managed to reach headquarters, and give his information, but the severity of his injuries overcame him and he died." Geoffrey died of gunshot wounds to the chest and is buried in Lijssenthoek Military Cemetery. Geoffrey's pilot also lost his life.
George Lyward did not serve in the war as he suffered from Polio. When discussing the war in his autobiography, he said: "I can hardly write of those times. I lost one friend after another." Continuing, he wrote: "Then came the first Great War – why does it have to be called that? The holidays were on and I always spent days at my old school with friends who had been there with me. We played fives and sat and talked. One day we found ourselves called upon to put on our OTC uniforms and guard the railway line against spies. It was not many months before most of those I was with then were dead and buried – more poppies."
Lyward's autobiography describes the impact it had upon him in great detail: "I lost many of my friends within months of those days when we sat together in school. I managed to make suitable comments until the day when one of the dearest of them was reported killed. A common friend came to our front door with the news and I burst into sobbing and was comforted by my mother who must have wondered how I had managed to weep – it may well have been the first and last time for many years."
Interestingly, his autobiography does not mention Geoffrey Cholerton Smith by name, but the poem included in the book and in The Portcullis from 1917, simply titled 'G.C.S' obviously refers to his fallen classmate, bearing his initials:
G.C.S.
'Of Such is the Kingdom'
So young he was, yet dare we call him boy
Who himself dared so greatly, yearned to climb,
Higher, to taste all unalloyed the joy,
Of self forgot In faithfulness sublime?
We blamed him, praised him, for that mighty longing
That burning thirst which bade him drink so deep –
Still on his course he kept, and thronging, thronging,
The visions came, he followed, shall we weep?
Because he followed – mourn a faith that shone
Clear and unshaken? He who ne'er could tell,
The half of all he felt, now calls us on,
With no uncertain voice, a man he fell,
And falling rose to heights of finer joy,
A leader still and therefore still a boy.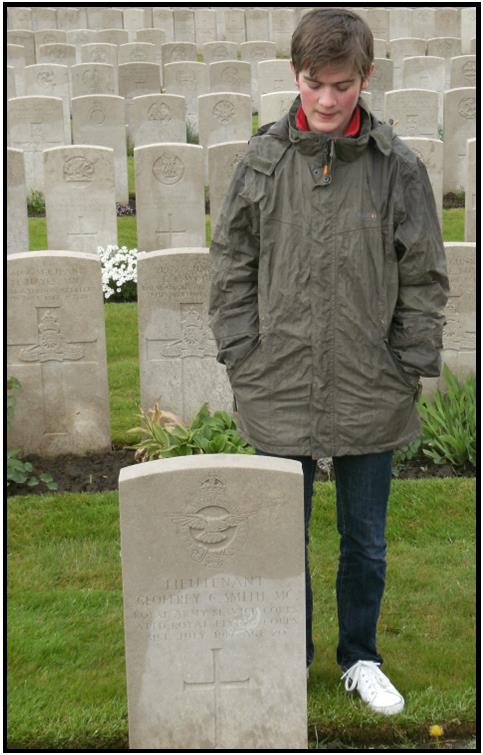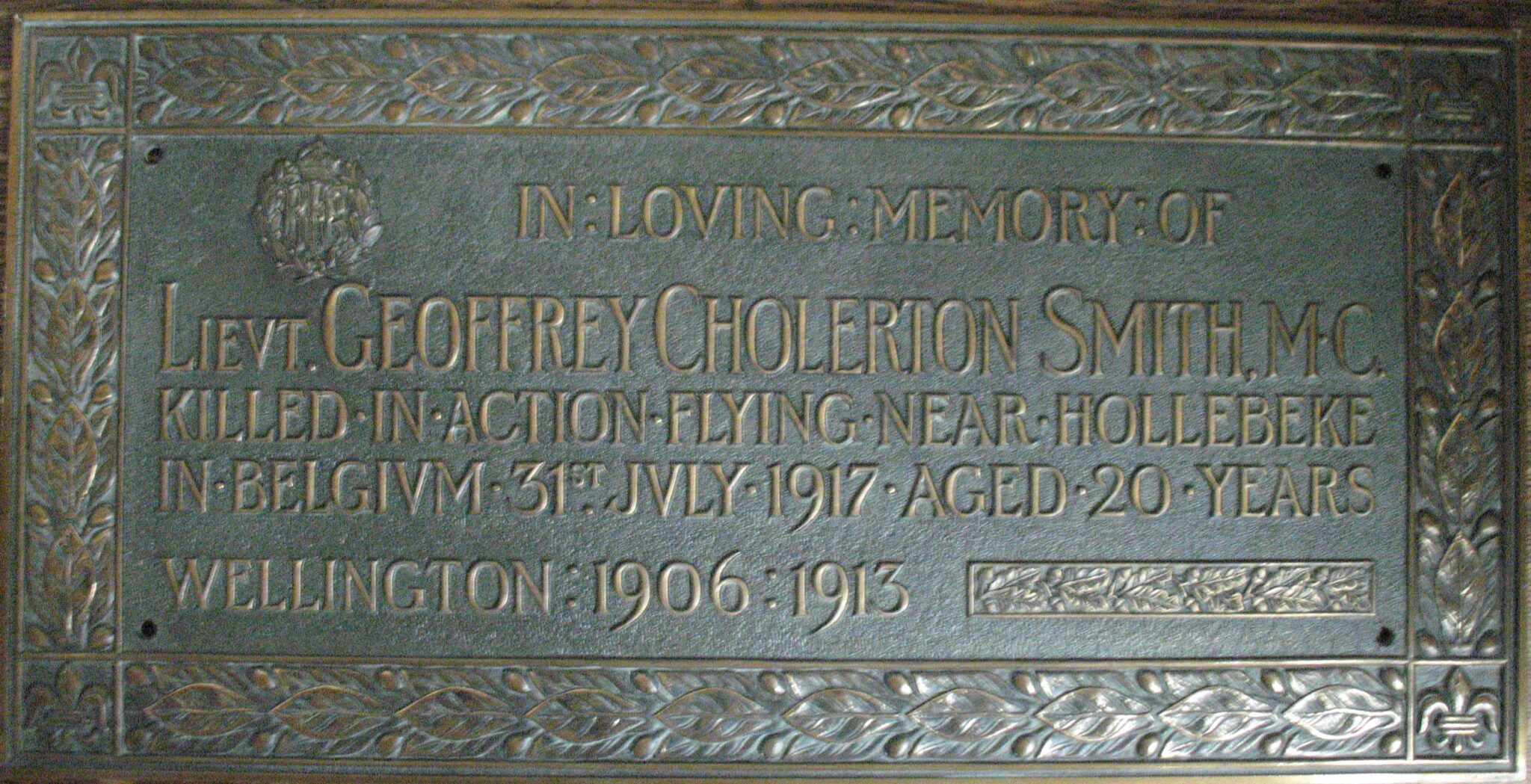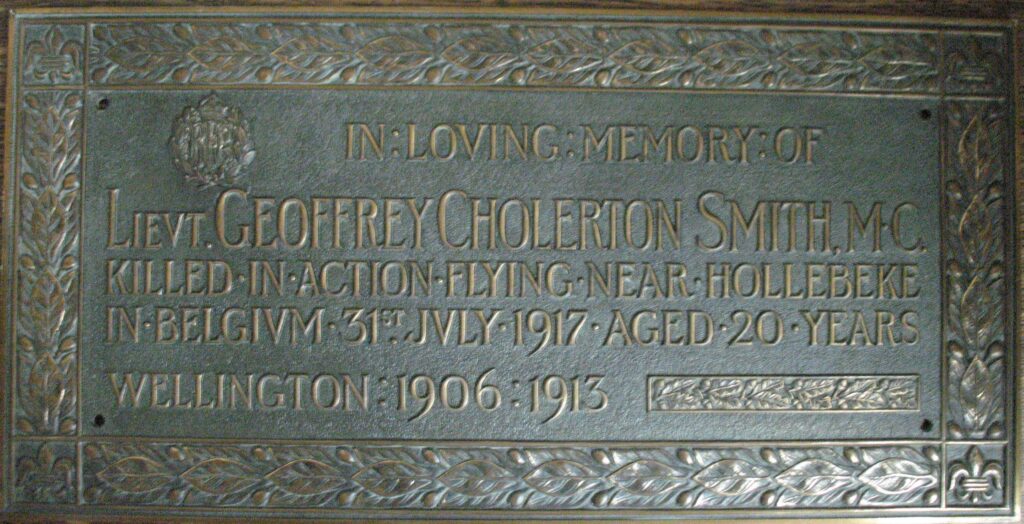 In the 1930s George founded Finchden Manor, a school for troubled teenage boys, which featured in BBC Radio Four's Great Lives series in 2012. He was awarded the OBE for his key role in developing non-curriculum based education for children with behavioural difficulties.
In his youth George undoubtedly cursed the disability which ultimately may have saved his life, but excluded his from the war which killed many of his friends and contemporaries such as Geoffrey. As he was teaching at Emanuel in the later part of the war he would have known personally many who lost their lives and heard their names read out in the Sunday evening chapel service which was help throughout the First World War. George passed away in 1973, aged 79.
In the past Emanuel pupils have visited Geoffrey's grave when touring the war cemeteries school history trips and have read out loud the 'G.C.S' poem in his memory. 2nd Lt. Frank Ashton Lane (OE1907-12), who is remembered on Ypres Memorial, also lost his life on the same day as Geoffrey and in the same battle.
Tony Jones (Senior Librarian & Archivist)
Featured in the top image: three English teachers in 1921 from left to right: Percy Gurrey, George Lyward and the long-serving Stafford Hipkins (1921-64) who was eventually Second Master and Acting Headmaster.
George Lyward's autobiography cover