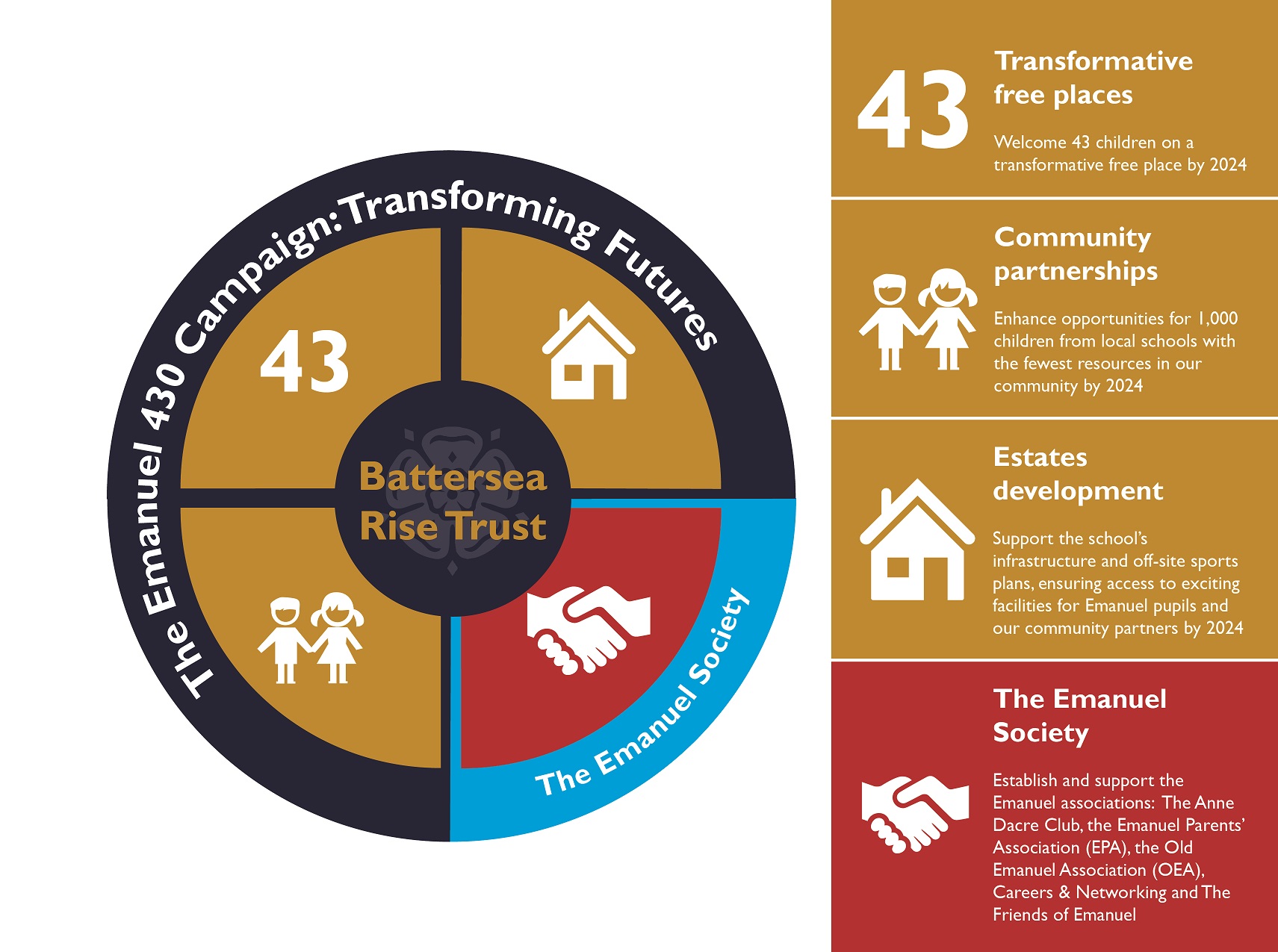 In December 2019, we launched our rebranded charitable trust, the Battersea Rise Trust (BRT). This trust is the central organisation for the school's charitable mission which centres on our desire to ensure all aspirational and talented girls and boys have an opportunity to learn and grow at Emanuel, regardless of financial circumstance.
The Battersea Rise Trust has four key aims:
To welcome more children to Emanuel on a transformative free place. We want to offer more pupils, who would otherwise never have the opportunity, the chance to benefit from a life-changing education at Emanuel School.
To support our ambitious estate plan. We want to ensure that Emanuel staff and pupils have access to excellent educational and sporting facilities.
To enhance social mobility in south west London. We want to harness our pupils' leadership alongside our educational expertise and the school's resources to improve opportunities for children in local primary schools that contain a high numbers of pupils on free school meals.
To develop the Emanuel Society. The Emanuel Society incorporates all members of the school community – pupils, parents, alumni, staff and friends of the school. Its aim is to keep everyone better updated on the full range of opportunities available at Emanuel and ensure the wider community continue to feel connected to the school.
Emanuel 430: Transforming Futures
In 2024, the school will celebrate its 430th anniversary. Over the next five years, we want to make a significant impact on the goals of the Battersea Rise Trust, run exciting events and provide a range of opportunities under the banner of Emanuel 430. At the heart of this campaign is our desire to transform our students' futures and the school has committed to welcoming 43 children on a fully funded place by 2024. It is our belief that these transformative bursaries have the biggest impact, ensuring we are offering children, who would otherwise never be able to attend Emanuel, the chance of a life-changing education.