"Turn to drawing, it will act as a form of meditation."
Students taking part in the Grayson Perry Art club this term were recently set the challenge of painting a portrait. Some chose family members and friends and others chose to paint an NHS worker, inspired by the recent #portraitfornhsheroes campaign, set up by portrait artist Tom Croft.
Croft, feeling despondent at the start of lockdown, and thinking about the meaning of portraits as a way to immortalise others, decided to focus on NHS workers. Who better to line the walls of galleries and have future generations look back on as the people who really made a difference and stepped up in the crisis? He offered to paint a free portrait of the first NHS Key Worker to contact him on Instagram, and encouraged artists to do the same. The campaign took off and has attracted more than 500 posts. Emanuel parent and artist, Nigel Turner drew the art department's attention to the initiative. We caught up with him, to find out about his involvement, and what others can do to help:
How did you hear about the campaign?
I first came across #portraitsfornhsheroes on Instagram, it was the initiative of a portrait artist I follow, Tom Croft, who also featured in the BP Portrait Award at the National Portrait Gallery; I was a finalist for the award when it was still only open to 'young' artists. Once the idea had become more publicised Tom was able to match volunteer painters with NHS staff who wished to have their portrait painted.
Who was your NHS subject?
My subject was Julia, an A&E nurse at the John Radcliffe Hospital in Oxford.
What was the process like?
It was fairly straightforward, she would send some photographs taken on her phone when there was a moment to spare and I would try to produce a painting which would then be given to her (when restrictions permit). I explained that, although volunteering, I hadn't actually painted a formal portrait for several decades, and was only used to working from live sittings not working from photographs. My work these days has taken a rather curious turn, I am now semi-abstract and abstract in landscape with oil, wax, charcoal and other media. Fortunately Julia was not put off by this! We communicated quite frequently during the painting process mainly by text or messaging, amazingly she found time to follow progress despite working many very long shifts whilst under an unimaginable level of stress.
After being so enslaved to measurement, technique and correct procedure it was a shock to be suddenly experimenting and throwing the rule book out of the window. Drawing is still a very important part of the process and something which I still love.
What did taking part in the competition mean to you?
I wasn't sure what to expect exactly when volunteering, I guess we all really wanted to do something to help but as a painter I hadn't really expected my occupation to be of much use! Julia is thrilled with the painting and I can't wait to deliver it to her at some point in the future. Maybe I briefly took her mind off what must have been some pretty tough days (and nights) and let her and her colleagues know that we were all thinking of them.
What portrait painters do you take inspiration from?
There would be a very long list of portrait painters whom I admire and would like to think I draw inspiration from but here's a few…
Henry Lamb, Rex Whistler, Diego Velasquez, Hans Holbein, Ingres, Laura Knight, Graham Sutherland, William Coldstream, Anthony van Dyck, Joshua Reynolds, Gwen John, William Strang… I could go on for a long while!
What advice would you give to Emanuel's young artists in these unusual circumstances?
I'm not sure I'm qualified to offer much advice to other artists in lockdown who're experiencing creative block, these are exceptionally difficult times and the opportunity to put all these matters out of one's head is not easy. I try to have at least a couple of things in progress at any given time, some waiting to dry or others that are started and can be worked on without fear of taking off in the wrong direction. Experimenting and trying new things will not be regretted and not everything will be successful; put aside, they can always be reworked or reappraised and will be counted as experience. If in doubt turn to drawing, it will act as a form of meditation!
---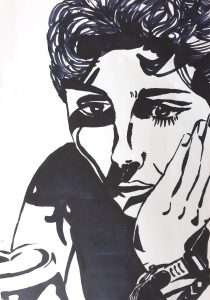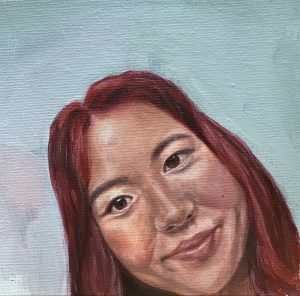 Our young artists have certainly been using art as a way to develop their work and express their thoughts and ideas. Speaking to some about their involvement in the Grayson Perry Club, they have found that the weekly challenge gives them a focus, a chance to break from their screens and a way to develop their skills. We would certainly encourage our young artists at Emanuel to keep exploring different art initiatives online, especially over the summer break.
We would encourage you to visit the Grayson Perry Art Club galleries, showcasing a selection of students' work from each weekly challenge:
To find out more about the #portraitfornhsheroes and submit your own response, visit the Instagram page for the campaign.
Miss Cottone (Teacher of Art)