OE Georgia Miansarow (OE2006-2008) started her journey to international rowing success at Emanuel where she was a member of the first Senior Girls 1st VIII to compete at the Henley Royal Regatta. Georgia continued her rowing success at university in Australia, becoming Australian lightweight champion in the LW4X at the Lucerne World Cup in 2017 as well as gaining a silver medal in the lightweight quad at the World Championships that year. Now, Georgia has turned her sights to elite cycling. She rides for Sydney University Staminade, a national road series team, but her training has been significantly impacted by the coronavirus lockdown in Sydney.
What are your best memories of Emanuel?
My best memories are of sporting days and in particular swimming galas after school or house cross country.
Did any teachers at Emanuel influence you?
I remember Ms Fitzgibbon and Mr. Marriott as they both really encouraged me in rowing. I also remember my Spanish teacher because she kicked me out of the class!
What were your sporting highlights at Emanuel?
I really enjoyed getting into rowing and any cross country and athletics races; I used to love running.
At Emanuel, you were a member of the first Girls' VIII to compete at Womens' Henley in 2008. How did it feel to be making Emanuel history?
I just remember loving Henley. I thought it was so cool to be able to race there and to also be in a boat with the older girls.
Rowing coach, Richard Marriott, recalled the first-round victory in The Portcullis:
"A summer of frustration and disappointment after the cancellation of the National Schools' Regatta ended in Emanuel entering a crew for Women's Henley for the first time and gained an unexpected but memorable first round win over the Rumson Crew, USA. Emanuel shot off the start and the New Jersey girls had no answer to the sheer speed and determination of the Emanuel crew as they powered their way against the head wind. Our girls were as surprised by the final result as the Americans were stunned to have crossed the Atlantic to be defeated so convincingly. The watching Emanuel parents, even the crew themselves, could hardly believe their eyes."
Can you tell us about the move to Australia and your journey to representing Australia in rowing there?
I moved when I was 18 to go to university here. I was fortunate to start rowing at Mosman Rowing Club and had a great coach, Nick Garret (who has sadly passed away now). He was so influential to me and really encouraged and supported me to making my first national team. I was very lucky to have some great coaches early on in my rowing days such as Nick and Alfie. The national system wasn't centralised when I first started so you could train in your home state and then move to train with your specific crew. I spent time in Tasmania which I really enjoyed. It is now a centralised system so all the women are based out of the National Training Centre in Penrith and the men in Canberra.
What were your achievements in international rowing?
Bronze medal at U23 in LW2X 2014
Gold medal in LW4X at Lucerne World Cup 3 2017
Silver Medal LW4X World Championships 2017
 You have been a part of the Elite Athlete Program at Sydney Uni Sport & Fitness since 2017. Can you explain what the programme involves?
I ride for a national road series team called Sydney Uni Staminade, so the Elite Athlete Programme is part of that. We have access to the gym, nutrition advice, support etc.
How have you found combining your university studies with elite sporting success?
I am definitely not someone to give advice on university studies! It took me 9.5 years to finish my degree – I really dragged myself through it. I did online uni mostly so that it was less disruptive with training and racing but I wasn't motivated to do it. Obviously, I am glad I finished it eventually and got the degree, but mainly because it ticked the box and looks better for employment.
How did you get involved in cycling and what do you love about it?
I used to cycle for cross training whilst I was rowing. I especially loved doing huge rides that would take up the whole day so as soon as I stopped rowing I just threw myself into it. Then I started racing and soon after was asked to race with the Staminade Team which is great fun.
What attributes do you think you can best take with you from rowing to cycling?
The team side of cycling is very important. Most people don't realise how much of a team sport cycling is. Rowing and cycling have a lot a cross over in terms of physicality and having the discipline to train hard and push myself which I have developed through rowing.
What is your ambition in cycling?
I'm not sure yet. This whole Covid situation [Sydney has been in lockdown] means we can't even do a bunch ride at the moment let alone race!
Can you tell us about Wild Women on Top and your involvement with it?
I recently started work with Wild Women on Top as an Event Production Coordinator. I absolutely love the company and the team! We run walking events called Coastrek. The aim is to encourage women to fall in love with health and fitness by getting outside and being in nature.
What are some of the best things about living in Sydney?
The beach, the weather and the outdoor lifestyle
What do you enjoy doing in your spare time (when you're not in lockdown!)?
I'd say when I'm not working, training or racing I love going to the beach and being in the ocean. During lockdown I've started doing boxing which I'm really enjoying. Generally if I've got spare time, I'll be outside doing some form of exercise!
Photos and captions: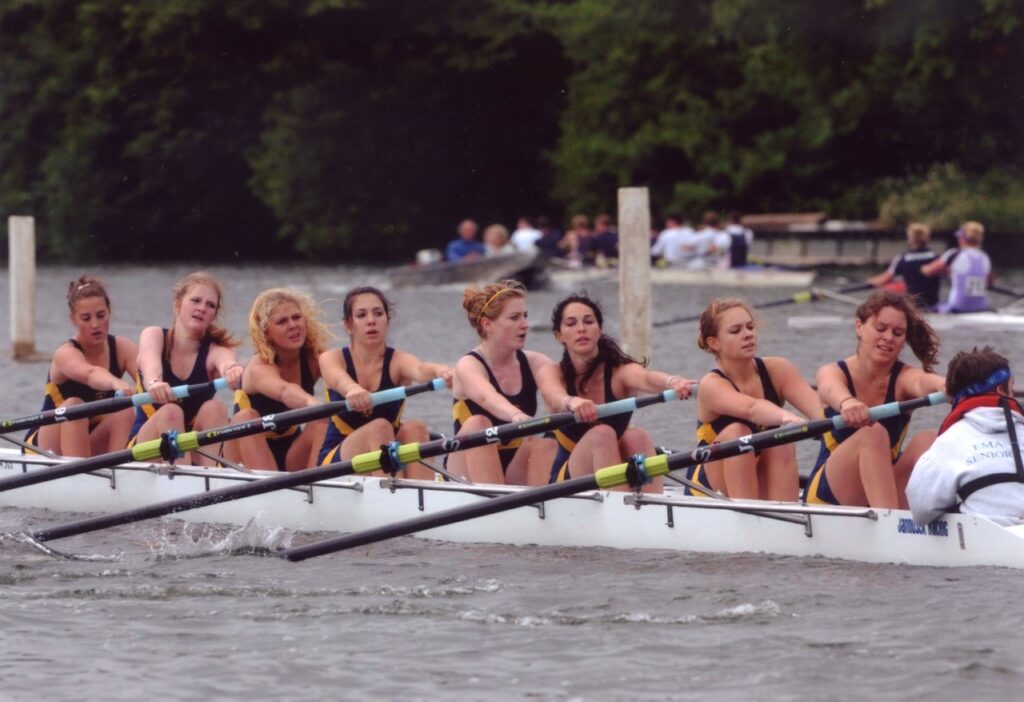 Henley crew 2007
Senior girls rowing crew at Henley: Bow Phoebe Fisher, 2 Lily Robertson, 3 Georgia Miansarow, 4 Cecilia Redondo Zaratiegui, 5 India Brummitt, 6 Rebecca Thomas, 7 Freddie Little, stroke Hannah Majewska, cox Harry Docherty-White. Reserve Lucy Andrews.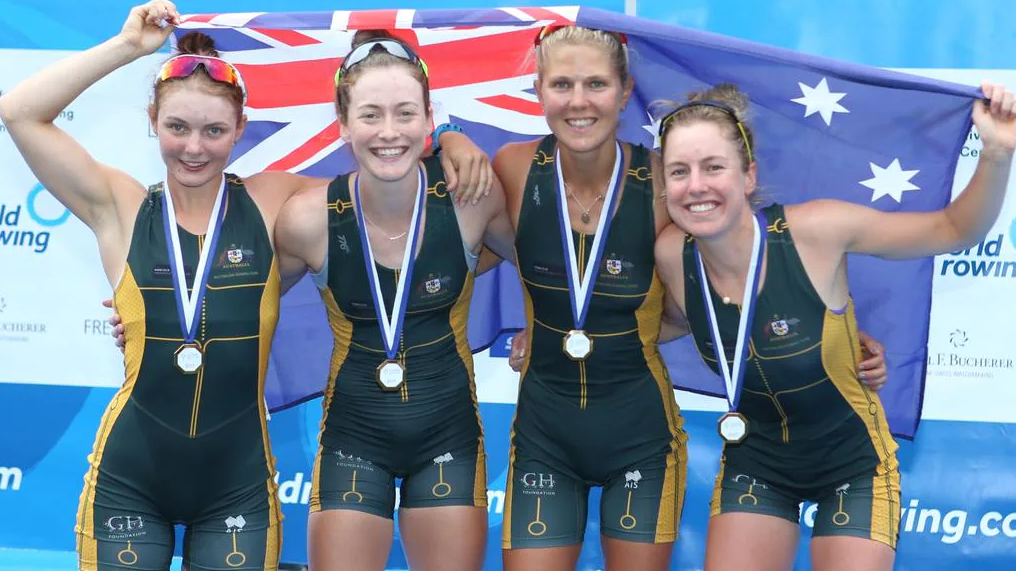 Gold at World Cup
Australia's lightweight quadruple scull crew after winning gold in Lucerne at the World Rowing Cup. Georgia is second from right. Picture: Rowing Australia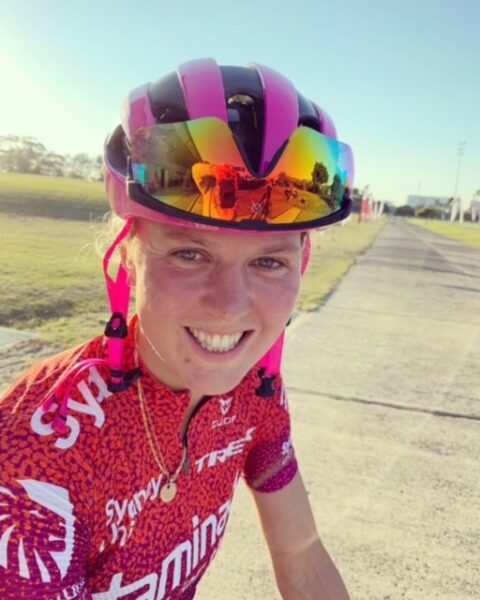 Georgia – Sydney Staminade