An Interview with Richard Bond (OE1966-71)
We were delighted to recently catch up with Richard Bond (OE1966-71) who had a long and successful career in journalism and as a photo editor which included 26 years at the London Evening Standard. Not surprisingly, we were drawn to Richard by a photo he took in the early 1970s of the 1st VIII rowing close to the Houses of Parliament. When we shared the photo on our Alumni Facebook page Dick Millard, who was in the boat, mentioned that the photographer was also an OE, a tip which eventually led to this interview.
Here, Richard recalls that iconic rowing snap, discusses key moments from world news events he was involved in covering and how reporting the news has evolved.
Do you have fond memories of your years at Emanuel?
I was in the Air Force section of CCF and remember a trip to RAF Linton-On-Ouse where I was able to fly in a Chipmunk trainer. I had never been in an aircraft of any type before and to fly in this small plane and actually be able to take the control was a great thrill. I also remember Rodney House trips to Paris and Germany which were again a great adventure.
Did you have any favourite teachers or others you remember vividly?
John Manning was my Rodney House Master and when I decided to leave school after my O levels he invited me to lunch in the Masters' dining room. He asked me to look around the room at the Masters in their capes and said that from today I was their equal and should expect to be treated as one. This advice has always stayed with me and has often helped me when in meetings with some of the toughest Editors and newspaper executives.
What sort of activities did you get involved in at school?
I enjoyed playing rugby and captained the Junior House team. I also played the trumpet (badly) and was part of the brass band.
How did you get interested in photography?
When I was about ten-years-old my parents gave me a Kodak Instamatic camera for Christmas and I just enjoyed snapping away at the family and the area where I lived. After a couple of years my mum bought me my first SLR camera and I started to learn about the technical side of photography and get more creative.
What was your career path beyond school?
I think leaving school after my O levels was frowned upon by a lot of my teachers but I really knew I wanted a career in photography. My first job was assisting an Architectural Photographer based in Southfields and he let me take a day-release course at Croydon College of Art to study for a City and Guilds qualification in photography. This job entailed a lot of travel around the UK and also a trip to Finland so this really was further education both technically and socially. A year later I joined the East Surrey Newspaper Group in Redhill as a junior photographer, which at 17 was being thrown in at the deep end! I had only just passed my driving test and was sent all over Surrey and South London photographing garden fetes, golden weddings, human interest stories and sport. It was a steep learning curve but I really enjoyed the work.
Whilst you were working for East Surrey you took the fantastic photo of the 1st VIII rowing near the Houses of Parliament. We love this photo and have shared it many times over the years on the school's social media platforms. Could you tell us a little bit about the story behind the photo?
A couple of my friends, Mic Dixon and Dick Millard were still at school and members of the Boat Club. One Saturday morning they were rowing from Barnes to Westminster and back and asked me if I would take some pictures from the following launch. Obviously the House of Commons made the perfect backdrop and the cold misty atmosphere added something to the picture. I remember that when we got back to Barnes the cox was so cold he couldn't move so had to be lifted from the boat in agony.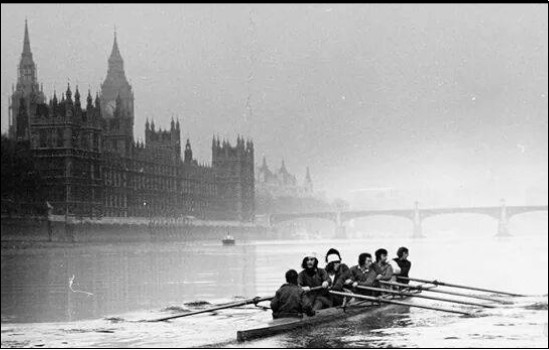 You later worked for both Fleet Street photography agencies and the Birmingham Evening Mail as a photographer. Were there certain types of stories you were attached to, or did you always have your ear to the ground for the next breaking story?
In 1976 I joined the Sport & General Press Agency as a freelance supplying pictures to all the national papers. This work was mainly breaking news stories and sport. I covered all the top football teams and also big events like The Notting Hill Carnival as well as plenty of Royal Family and political assignments. I was then offered a staff job at the Birmingham Evening Mail. The paper had the second highest provincial newspaper circulation after the Manchester Evening News and had a staff of over twenty photographers. It was a big decision to leave London but I was still covering top flight football and had plenty of travel around the UK and abroad.
Can you tell us about joining the Picture Desk at the London Evening Standard when you returned to London?
My former colleague at Sport & General, David Ofield, asked me to join the Evening Standard Picture Desk where he had just been appointed as Picture Editor in the mid-1980s. This was what I had always wanted, a staff job in Fleet Street, and on my first morning I stood at Ludgate Circus and looked up at the street sign with a smile on my face before entering the famous Daily Express building where the Evening Standard was based.
Being a Picture Editor requires a totally different set of skills. You have to decide on the news agenda of the day and make sure all angles are covered by briefing your own photographers and any agency you have commissioned. You have to ensure deadlines are met and that there is a sufficient supply of picture stories to fill the paper. You also have to make the selection from all the images the photographers send to the Editor for publication.
The days are high pressured and the hours are long; I would be in the office by 5.30 in the morning and not home much before 7.00 at night.
You worked in newspapers through some of the most famous moments of the second half of the 20th Century, from the Miners' Strike, the Thatcher era, the end of the Cold War and Apartheid in South Africa to the death of Princess Diana. Which periods or moments do you remember most vividly?
The newsroom is a special place where you see world events unfold in front of you. Before the days of 24-hour TV news and the internet, this was the place where you saw it first and it was the 12th December 1988 that the Evening Standard moved into the new offices and Newsroom at the HQ of Associated Newspaper in Kensington.
This date is significant because early that morning the disaster that became known as The Clapham Junction Rail Crash happened outside Emanuel School. A team of Evening Standard photographers were soon on the scene and sending their films back to the office where it was pretty chaotic. We had to overcome all the teething problems of our new office quickly and get our pictures back and ready for publication in the early editions. Tragically thirty-five people lost their lives that day but the pupils of Emanuel School, who were first on the scene, were later commended by Prime Minister Margaret Thatcher.
There are so many other memorable news events but the ones that probably stand out are these.
The 9/11 attacks in the USA when the Evening Standard had our own photographer, Cavan Pawson, in New York covering fashion week. Cavan made some memorable images on the day of the attack and the aftermath and was named as News Photographer of the Year for his work.
The Newsroom knew something big was happening within minutes of the 7/7 London bombings beginning. Photographer Alistair MacDonald just happened to be in Russell Square as people staggered out of the station and he alerted the Picture Desk immediately. Within minutes our transport correspondent confirmed that the tube network was closed down and the news operation swung into action. It was a difficult time for many of us working that day because as we were reporting on the disaster many of us were worried at the same time for the safety of our family and friends who were working in Central London.
Reporting the death of Princess Diana was primarily a picture led story. It happened on a Sunday and we were all called into the office and remained nearby for a whole week. The Evening Standard office was in Kensington by this time and there were streams of people filing past the front of the building on their way to lay flowers at Kensington Palace.
The funeral was the first event we covered using digital photography on a large scale, so purely from a news photography view, it was highly significant.
There was a big build up to the release of Nelson Mandela and at the time very few pictures of him were available so that first image of him in 1990 walking to freedom with his fist raised was hugely significant. He then became one of the most photographed people in the world.
These and many other events, in particular the two Gulf Wars, were the events where the professionalism and skill of the Evening Standard editorial team really came to the fore. Long days become even longer and News and Picture Editors spent many nights in hotels to be near the office. There are many human victims and great suffering as a result of some of these events which we should not forget, but I have to admit that as a journalist when a big story breaks the adrenalin flows.
Looking back over your long career, could you tell us about a couple of your favourite photos?
There are so many pictures that have been favourites over the years but I have picked a few examples here.
The first real "news" picture I took was while working for the weekly group of papers. I was driving through Tooting and saw smoke rising behind a parade of shops and as I parked a Police car pulled up and the PC jumped out and ran up the stairs to a flat that was on fire. I grabbed my camera as he broke down the door and soon came out shielding a young baby and I managed to fire off a couple of frames. The officer was given a bravery award for his actions and the local Police Commander actually thanked me for taking the picture! (Ed: below, left)
Another favourite of mine was while covering Goodwood races. I was getting in position to cover the finish of the race when someone said that jockey Lester Piggott had dismounted after his reins breaking on the way to the start. I rushed up the track to find him and he was standing by the running rail and a steward passed him an umbrella because it raining heavily. It made an amusing picture that worked perfectly for a play on words that newspapers love so much. The picture was published the next day under the headline "The Day the Reins Broke". (Ed: below, right)
There are many favourites I have that are taken by other photographers including Steve McCurry's picture of the Afghan girl Sharbat Gula that appeared on the front of National Geographic, David Bailey's portrait of Jane Birkin in his book Goodbye Bay and Amen. Celebrity photographer Dave Benett's picture of Nelson Mandela at his 90th birthday celebration being applauded by Bill Clinton and Gordon Brown is also another favourite of mine.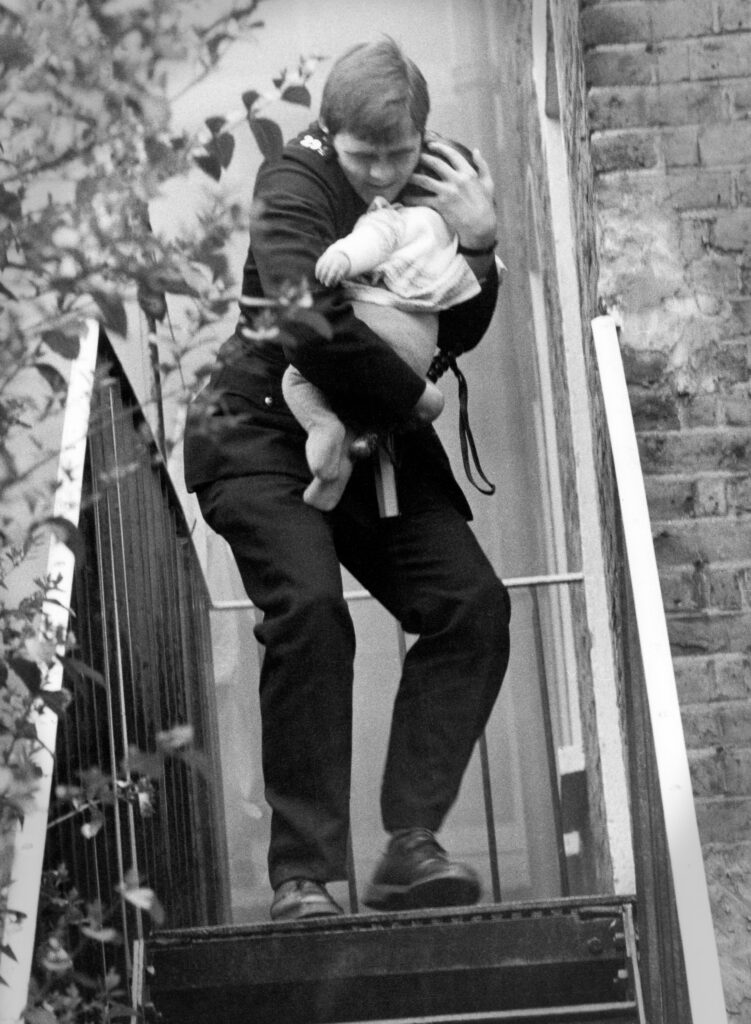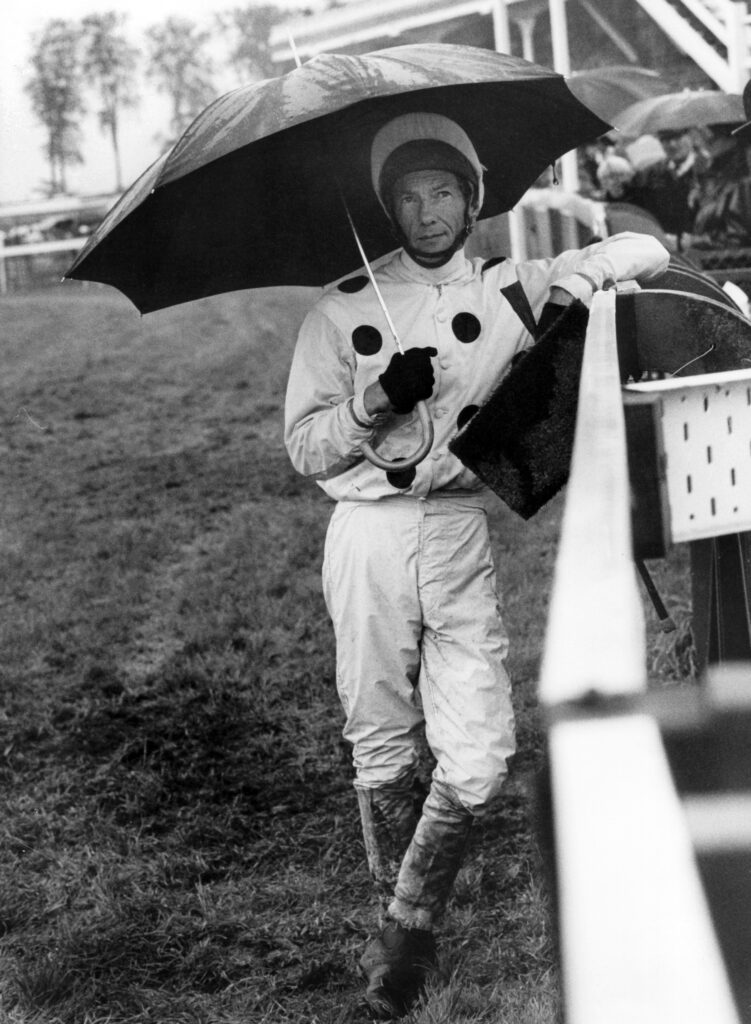 Did you ever land any major 'scoops' or have any photos which became particularly well known?
There have been many "exclusive" pictures over the years but a couple that attracted a lot of attention was the Evening Standard's picture of Speaker's wife, Sally Bercow, draped in a bed sheet framed by a hotel window with the Houses of Parliament behind and the Standard's Jeremy Selwyn's picture of Ed Miliband having trouble eating his bacon sandwich!
How did the Picture Desk at the Evening Standard operate before modern computing and the internet?
Photographers were shooting mainly black and white film which, if urgent, would be sent to the office by despatch rider for processing. The picture desk would make a selection to be printed from the contact strip and presented for publication.
Often the photographer was out of town so he would have to "wire" the pictures back. This would mean gaining access to a darkroom, getting a print made and then having a dedicated wire machine (operated by an NGA union member) to transmit the picture to the receiver in the office over a dedicated telephone line. Each picture took seven minutes to transmit.
In the late 1980s, negative transmitters came in and wiring over a normal telephone line became possible. Although we didn't have to make a print it still took several minutes to transmit each picture. Hasselblad introduced a colour negative transmitter using the same system but three images had to be sent to make up the whole picture so it could take twenty minutes just to send one image. International agencies would send in a selection "on the wire" as part of a regular daily service, on a normal day transmitting around thirty to forty pictures. Today most national newspaper Picture Desks will be receiving well over 30,000 digital images a day.
Did the newspaper industry embrace the digitisation of photography? How quickly did your job adapt to new technologies?
The Evening Standard was one of the first newspapers to embrace the switch to digital photography. We did a lot of trial work with Kodak and Nikon who developed the first professional SLR digital camera. It was a rapid change that newspapers embraced as although initially it was expensive to move to digital the long term financial savings were immense, not only in material costs such as film etc. but in reducing jobs as well. From the editorial point of view, it enabled us to get our pictures back to the office and into the paper much quicker than we had ever been able to before although in the early days the quality was not as good as film. It was at this time that we had the first "Electronic Picture Desk" where images were transmitted in to a specific computer and shown as thumbnails from which the Picture Editor could make a selection.
You worked at The Evening Standard for 28 years (retiring 6 years ago). How did you feel about the newspaper going free of charge? Strangely, I read it more frequently when I had to pay for it!
The Evening Standard was losing circulation and money so Associated Newspapers sold the title to Alexander and Evegeny Lebedev. There was a change of Editor and the new business model was to go free and increase the print run to one million copies a day. This was extremely ambitious but it worked and within a few years the losses had been stemmed.
All newspapers are struggling for circulation these days and the pandemic has certainly not helped the print media. However, The Evening Standard and other publishers have now fully embraced online output and hopefully that can help sustain and operate alongside the printed editions.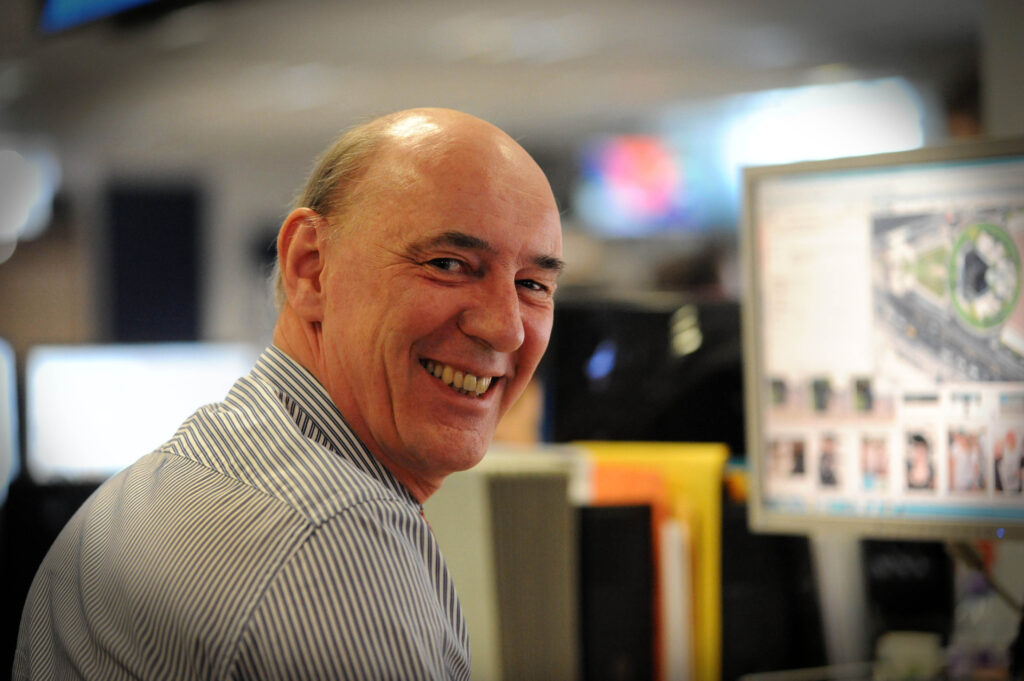 Do you have any advice for teenagers today interested in photography and journalism?
If you look at the internet or any of the newspaper/magazine racks in shops, everything is crammed with photographs so there is plenty opportunity to make a career in photography but many of the staff jobs have disappeared. These days a good degree in English or Media Studies is the best way to start but I would also say if you have a real passion and drive to work in the media, don't be put off trying to get your work published.
Read as many newspapers and magazines as you can. Look at the websites and understand the stories and pictures that different publications like. Most publications and websites are happy to view material "on spec" and if you have a great idea for a story, feature or picture don't be afraid to offer it to the editors. You might not even get paid at first but if your work gets published it could be your first step to a successful career.
With so many things being 'free' on the internet, is photography a career path where it is much harder to get noticed or find success than in earlier eras?
I think if you have a passion for what you do and produce good material then you will still get noticed and be successful. It's probably harder to make money as the prices paid for pictures and articles are much lower than in the past, but don't be put off by that as seeing your work published will give you a great thrill.