A few weeks ago, our Sous Chef, Curtis Johnson, and his colleague William Tinkler, Sous Chef from Magdalene College School were invited to spend the day working with Michelin star Chef Phil Howard in his Chelsea Restaurant 'Elystan Place'.
The day started at 10:00 and, as well as helping Phil's chefs with lunch for the restaurant, Curtis also worked on a special tasting menu for a dinner for some of Sodexo's Bursars from our Independent Schools including our own bursar, Mr Russell.
Curtis said, "The day started with me moving to and from each section getting the 'mise en place' ready for the lunch service. During this time, we had a TV crew in attendance who had come to film Phil working in his kitchen. There were 35 in for lunch that day and it went as smoothly as can be as it was a 3 course set menu.
After lunch, I started prepping the taster menu that was served to our Sodexo Independent Schools executive team and some of the Bursars from our Independent schools, including our Emanuel Bursar.  I also helped with more 'mise en place' for the 'a La carte' supper menu in the main restaurant.
What struck me the most, and what I was most impressed with, was the way all the chefs interacted with each other during service, especially the supper service when most of the customers came in late which meant that from 8pm it was non-stop. All the chefs there (6 in total) were all talented in their own right but the chemistry between them when things got very hot was a pleasure to witness.
It was a long and tiring day, but I really enjoyed the experience."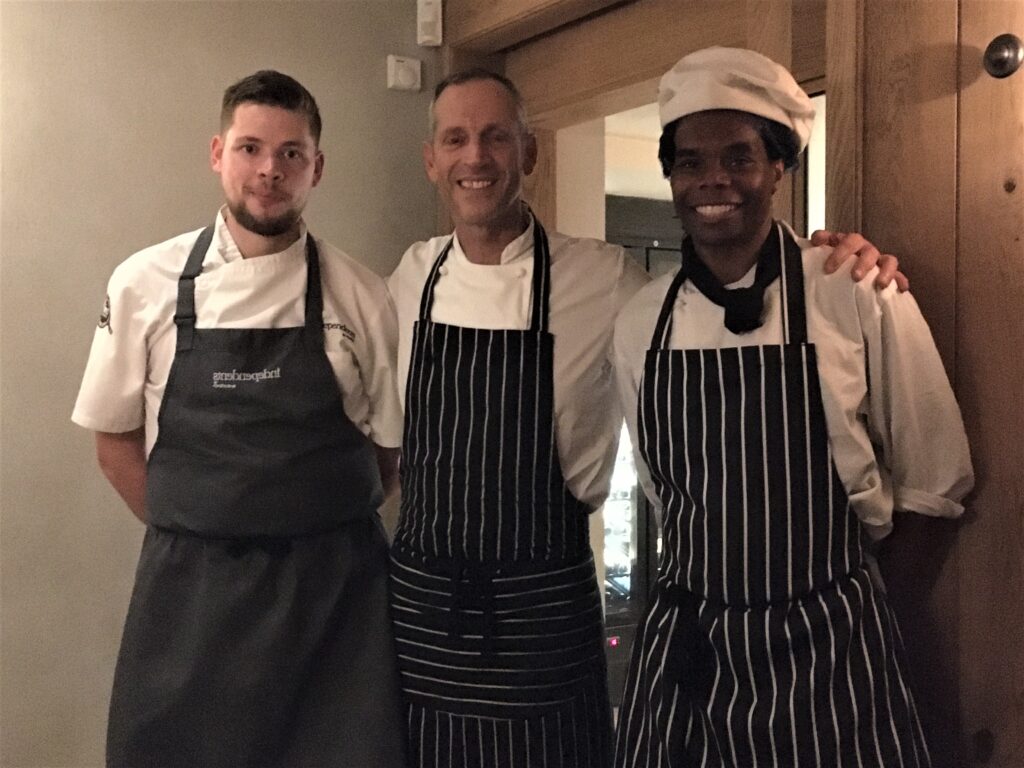 Photo left to right – William Tinkler, Phil Howard, Curtis Johnson