Tim Seaton is now Head of Senior Sport at Harrodian School. Tim was a great sportsman at Emanuel. He was captain of the unbeaten colts of 1990/91 who won all 13 games, scoring 551 points and conceding only 61. Tim was later captain of the 1st XV and also cricket captain.
What are your best memories of Emanuel? 
My overriding memories from Emanuel are making great friends who are still my closest and most trusted friends to this day and teachers who allowed us to develop our own personalities. I also remember the cakes and cookies in the old Junior Dining Hall and Mr Thomson, the Headmaster.
Did any particular teachers at Emanuel influence you in life or your career path?
I was lucky enough to be there when Peter Thomson was our headmaster. I cannot speak more highly of how supportive and positive he was towards us all. He commanded a real presence, had an ability to remember little details about us, inspired us with stories that were relevant and had clear messages to help guide us on our journeys through the school years. He went above and beyond on countless occasions to help and give people who were struggling a second chance and steer them in the right direction. Peter Thomson was comfortable in every setting from sport, music, drama and of course academia. He was simply an inspiration to us all.
Dave Skinner was my form teacher when I was in the 3rd year, and he was a big guy who had rowed for Great Britain. We all thought he was great as he used his sense of humour to teach us and related to us all but also kept us in line when we overstepped the mark. One thing that left an impression was his honesty. Also, as a teacher I remember him not always having to know more than the pupils and letting them guide certain situations.
We all looked up to Stuart Legg. He came back to the school having left and gone and played cricket in Australia. He was clearly someone who knew about all sports having played at a high level and was someone I always wanted to try and impress. He later encouraged me to go into teaching and has become a great friend and mentor. He's a tough competitor but an incredibly caring and thoughtful person with a wicked sense of humour.
Jim Cremer was the 1st XI cricket coach who had played for Surrey, He was great at developing players and taught me to work with what players were naturally doing rather than change it to match what was supposed to be correct. He was great fun to play for and created / allowed a very social and tight team of mixed age groups.
Gary Dibden remembered everything and was very supportive. It was not until I started having to ref matches myself that I appreciated how good he was, and it was always an education to watch him referee.
Paul Doran was a brilliant coach who took us in the first year. He saw we had raw ability but was able to instil great basics which stayed with us throughout our playing time. He gave us champagne at Hampton when we went unbeaten and bought us a McDonalds after we won 7s tournaments.
What are you proudest of from your time at Emanuel?
I am proud of the lifelong friendships that were created with fellow pupils and teachers. I guess it taught me to stay humble and put the team first as they will always be there to support you through good and bad times.
The Portcullis has a multitude of references to the sporting endeavours of you and your twin brother, Paul. What were the sporting highlights for you?
We were unbeaten in our first year and in end of season 7s competitions one weekend we came 2nd in the Tiffin 10s and won the Dulwich College 7s and the John Fisher 7s. By the end, we could barely walk but we didn't want to let each other down which showed amazing team spirit.
Another highlight was winning the Herefordshire 7s for the first time in the school's history. Playing Welsh schools and others from all over the country was a great experience.
In cricket, it always felt good to win the Surrey and London cups. In those days, if you got a century the school would give you a new cricket bat. John Fisher became my lucky team; I never got out to them in my entire school career and earned many cricket bats from them.
What are your memories of the Canada 1994 Rugby Tour? The Portcullis notes:
'The six matches presented an interesting challenge with the Canadian forwards uniformly larger than Emanuel. Their 3/4s (and their spectators) looked for the BIG HIT but this concentration on crunching tackles left them vulnerable to tactical kicking. Tim Seaton and Alex Reeve with delicate chips and greasy grubbers set up our wings for try after try.'
The Canadians were great hosts. Being billeted by your opposition before playing them and not knowing what the host was like or who you were going to share with was a great experience. I also recall being introduced to a tour fining system that was ruthlessly employed and the sight of the odd missing eyebrow after a long night!
You were captain of the unbeaten colts of 1990/91. What are your memories of this time?
We won the Surrey 7s that year and really focused on those big games against historical rivals. This was our final year as the colts where we would all play together before being split into other senior sides. We had complete trust and emotional buy in which proved to be highly successful.
Tim Seaton, Head of Senior Sport, Harrodian School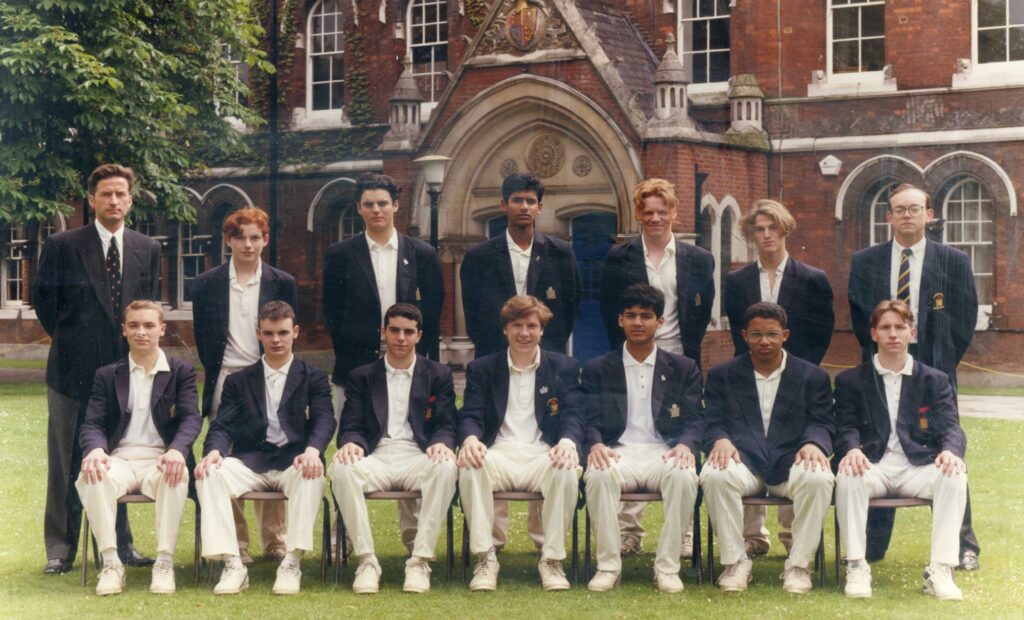 Cricket 1993 1st XI – Front row, second left
Junior cricket – Centre, kneeling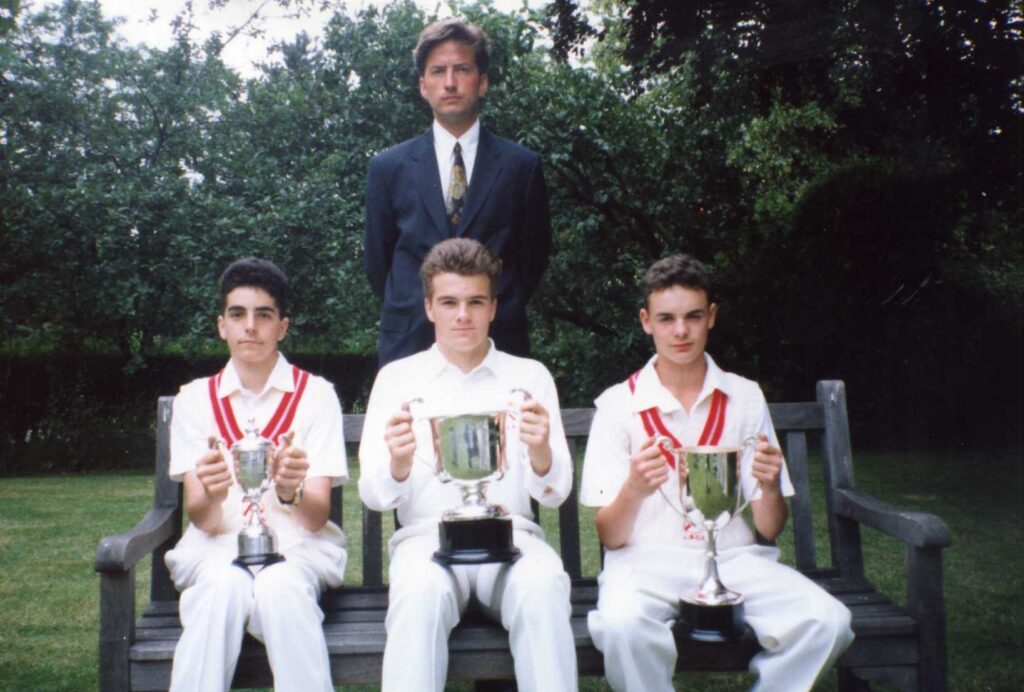 London Cup winners – Far right
Rugby 7s winners 1993 – Front row, second from right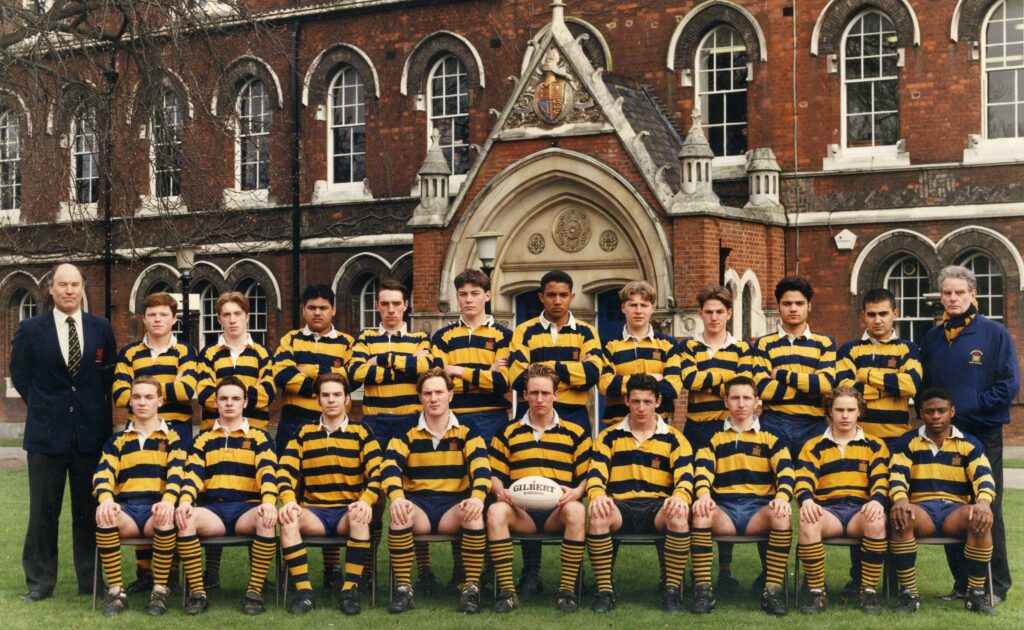 Rugby 1994 – Second from left, seated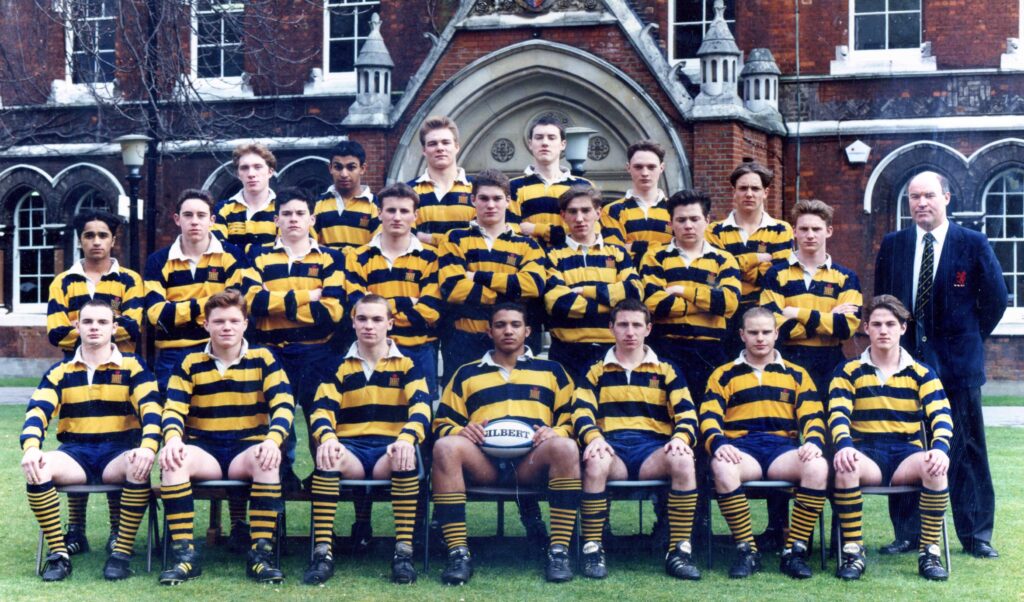 Rugby 1995 – Far left, seated